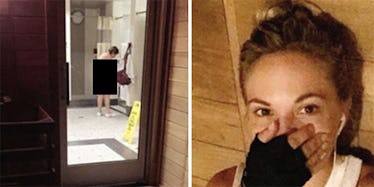 Playboy Model Says Mean Snap Of Nude Woman Is Ruining Her Real Estate Career
Snapchat
Dani Mathers, the former Playboy model who generated widespread outrage over the summer for body-shaming a woman via Snapchat, is reportedly concerned the scandal she caused will ruin her real estate career, TMZ reports.
Back in July, Mathers, 29, was in the locker room of an LA Fitness gym in Los Angeles when she took a photo of a naked, unsuspecting elderly woman who was changing and posted it to her Snapchat story with the caption,
If I can't unsee this then you can't either.
The pics immediately generated backlash and, ultimately, resulted in Mathers facing charges of invasion of privacy.
Mathers could face up to six months in jail because of this.
In late November, Mathers pleaded not guilty to these charges, and her lawyer is reportedly attempting to make a deal with prosecutors to avoid a conviction.
According to TMZ, Mather's attorney, Tom Mesereau, told prosecutors his client is willing to offer the woman she photographed a full apology and is open to attending counseling and an anti-bullying course.
Mathers is apparently very worried having a conviction on her record could ruin her plans of pursuing a career in real estate.
She's been working toward obtaining a real estate license but is concerned the California Bureau of Real Estate will reject her application if she has a criminal record.
After Mathers tweeted the photo back in July, she said it was meant to be part of a "private conversation" and body-shaming "is not [OK]." She explained,
A lot of people, women. Body shaming is not okay, and is nothing to joke about… This was meant to be a part of a private conversation that.
In late September, she also tweeted she's taken "full responsibility" for what occurred.
Whether Mathers truly feels remorseful or not, prosecutors are reportedly seeking a harsh punishment in order to appease the public.
Citations: TMZ