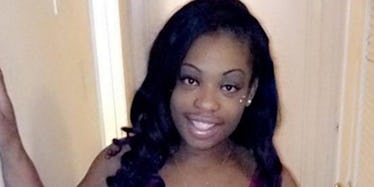 Dad Slams Daughter's Friends After She Drops Dead On FB Live With Baby In Hands
Facebook
The father of a young mother who died on Facebook Live while holding her son has criticized the people who watched her and did nothing.
Keiana Herndon, 25, of El Dorado in Arkansas, died on Wednesday, December 28, after she began to shake during the live stream which could have been watched by any of her 3,500 Facebook friends.
She dropped to the floor and took short, sharp breaths before the stream went silent.
Her father, Richard Herndon, who has yet to watch the footage, told a local news affiliate,
The views went from two or three, to too many for it to be a tragic live shot. It's amazing for someone to sit there and see somebody or hear them take their last breath and nobody did anything. So, I want to take my hat off to everybody that actual did something.
Keiana was singing and talking to her viewers before the incident. Her aunt, Barbara Johnson, described what happened in the video. She said,
She kept wiping her face and kept shaking her head, and she fell back... I heard some breaths, then I heard the last one.
Her mother, Mary Morgan, said she suffered from a thyroid problem, which was linked to a heart condition.
She branded the death "tragic" and said, "I would love to have my baby back with me," in a tearful interview with the news channel.
Keiana leaves behind two boys, Ja'Kylan and Rylee.
A GoFundMe page has since been launched by a friend who has already raised thousands of dollars. Part of the description reads,
On the night of December 28, 2016, we lost Keiana. Her son was a witness to the passing of his mother along with the eyes of Facebook. To know Keiana was to love her.
The friend describes Keiana as "a beautiful, free spirited and loving mother, daughter, sister, aunt and friend."
Citations: KARK