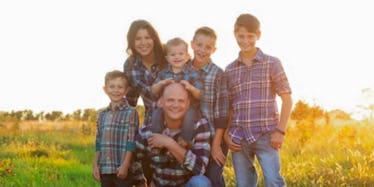 Dad's Last Words To Late Son Before Waterslide Death: 'Brothers Stick Together'
Facebook
Last August, Kansas State Representative Scott Schwab and his wife Michele took their four sons to the Schlitterbahn Water Park.
We reported earlier about how their second oldest son, 10-year-old Caleb Schwab, died after an accident on the world's tallest waterslide: the 168-foot Verrückt.
After his death, it was announced the ride would be demolished.
Many others have come forward to tell of their terrifying encounters with the slide, but now, Caleb's parents are opening up about that terrible summer day.
On Monday's "Good Morning America," Scott talked about the final words he ever said to Caleb, before he went with his 12-year-old brother, Nathan, to the ride.
He said,
Before they took off, I said, 'Brothers stick together,' and he said, 'I know, Dad.' I said, 'Look at me. Brothers stick together.' 'I know, Dad.'
Clint Sprague, the family's pastor, spoke at Caleb's wake about what an amazing kid he was. He said,
Caleb was an incredible young man, 10 years old and full of life. He's going to be missed for his energy, his life, his smile, and for the way he lit up the room.
Nathan went down the slide first and waited for his brother. When he saw what happened, he ran to Michelle and was so distraught he wasn't fully capable of forming sentences.
She ran to the scene, but a man wouldn't let her get closer.
She said,
He just kept saying, 'No, trust me, you don't want to go any further.'
Caleb was decapitated when the raft went airborne and hit a metal support bar.
There were two other women on the ride, one suffered a broken jaw and the other broke a bone in her face, which required stitches.
Scott was in shock when he heard the words. He told "GMA,"
I just need to hear you say it. Is my son dead? And he said, 'Yes, your son is dead.' It was surreal. I don't even remember driving home.
Caleb, who weighed 74 pounds, should have been in the middle of the raft.
Instead, he sat in the front with the two heavier women behind him. The uneven weight distribution caused the raft to go airborne.
Citations: Parents Of 10-Year-Old Killed On Waterslide Reveal Final Words To Their Son (Perez Hilton)