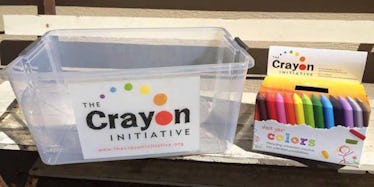 Awesome Dad Gives Restaurants' Old Crayons Amazing New Purpose (Photos)
Have you ever wondered what happens to restaurants' crayons after they're used?
Bryan Ware did, and when he learned that they get thrown out (even if they're not used at all!), he decided to do something about it.
It took two years, but in 2013, the father of two founded The Crayon Initiative, a nonprofit organization that donates recycled crayons to children in hospitals.
Since its launch, Ware's organization has donated more than 2,000 boxes of crayons to hospitals all over Ware's home state of California. This month, The Crayon Initiative will make it's first-ever out-of-state donation to a New York City hospital.
And it doesn't look like they plan to slow down anytime soon.
Here's a peek at The Crayon Initiative's painstaking process — from collection, to creation, to donation. Speaking of donations, The Crayon Initiative accepts them here.
First, Ware and his team travel to restaurants, schools, and the homes of private donors to collect unwanted crayons.
The crayons are separated by color and melted down to a liquid wax.
Next, the team creates new crayons by pouring the wax into custom molds, which are thicker than regular crayons and triangular in shape.
They're designed specifically for children with special needs, who may have a difficult time holding or using traditional coloring utensils.
Then, the super-cool crayons are packaged and delivered to local hospitals (often, by Ware himself).
The children, of course, love them.
And Ware says that's all he ever wanted to do: Make children happy.
"From my perspective, the biggest goal is to give them an escape," Ware explains.
He adds: "If these crayons give them an escape from that hospital room for ten minutes, we did our job."
The donated coloring tools also have the potential to help children with psychological issues express themselves: Art therapy is a popular treatment option for kids.
It's a lot of work to get the crayons from point A to point B…
But the folks at The Crayon Initiative are wholly dedicated to helping kids in need.
Head to the organization's website to learn more or donate.
Citations: This Dad Found a Wonderful Use for Restaurants Leftover Crayons (The Mighty)