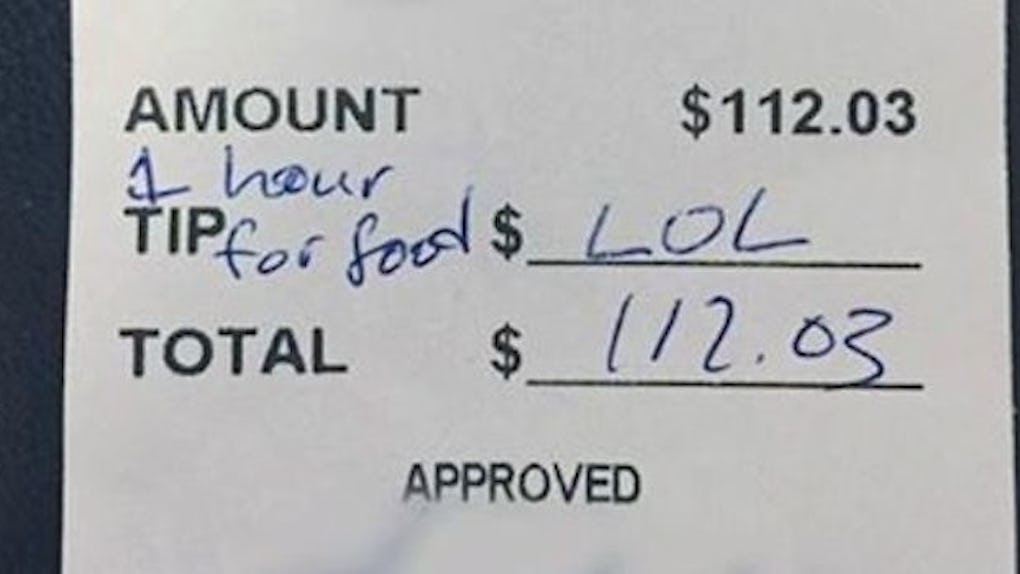 Facebook
Horrible Customers Leave 'LOL' Instead Of Tip On Bill For The Waitress
A party of eight at a New Jersey restaurant reportedly wrote "LOL" where there was supposed to be a tip on the bill.
Rutgers University student Jess Jones, 20, is a waitress at D'Jais Bar & Grill in Belmar, New Jersey, Huffington Post reports.
Last week, she wrote a Facebook post recalling a large party that apparently decided not to tip her because the members of the group were forced to wait an hour for their food on August 17.
She wrote, while the table did indeed wait a long time, the drink orders did not go ignored, and the party was told it was a particularly busy night. But like many diners, the party was apparently unaware long waits for food typically have nothing to do with the servers whatsoever.
After the diners took their bitterness out on Jones, Jones felt it was necessary to clarify how hard servers work and how much they depend on tips.
Last night, I was stunned by this receipt that was left for me by a party of eight people. I would have preferred a "$0"... Posted by Jessica Corinne on Tuesday, August 18, 2015
Among the many to provide sympathy for Jones was Belmar Mayor Matt Doherty.
He wrote on Facebook,
If you visit Belmar please treat the hardworking men and women in our service industry with the same respect you would expect at your job. This is ridiculous.
Well said, mayor.
Citations: Instead Of A Tip Diners Leave LOL For New Jersey Waitress (Huffington Post)