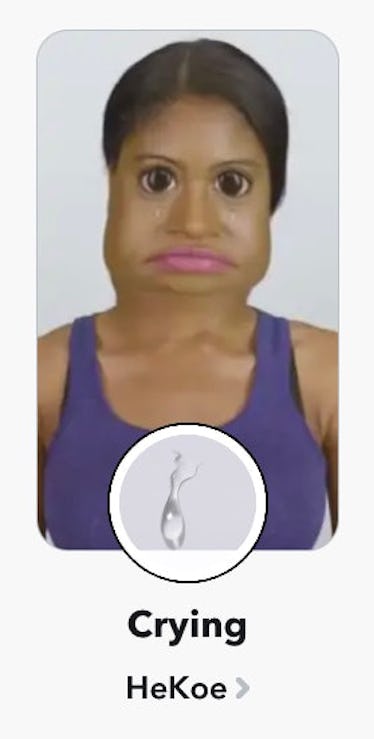 These Crying Face Filters On Snapchat, TikTok, & IG Are Perfect For Pranking
They'll never see it coming.
If you've scrolled through TikTok recently, you've likely seen the viral crying face videos going around, but if you've been trying to join in on the fun, you should know that the crying face isn't actually a TikTok filter at all — the one people are using is a Snapchat Lens. Luckily, TikTok has its own versions of the over-the-top effect, and Instagram and Snapchat are filled with some hilarious crying filters as well. Here's a rundown of the eight best crying face filters across the social media platform so you can hop on the trend on all your accounts.
ICYMI, the crying face (aka the sad face) is a new effect that distorts your face to look like you're crying — like, really crying. The viral filter gives you a big, dramatic pout that makes it look like you're sobbing and adds a noticeable yet subtle redness to your eyes. Plus, the filter also furrows your eyebrows, makes your nose all red and irritated, and gives you super realistic wrinkles for that extra level of realness.
Despite going viral on TikTok, the sad face effect is actually a Lens on Snapchat called "Crying." That being said, if the LOL-worthy trend has left you looking for even more laughs, there are plenty of pouty face filters across TikTok, Instagram, and Snapchat that are just as good as the OG filter, and are definitely worth checking out.