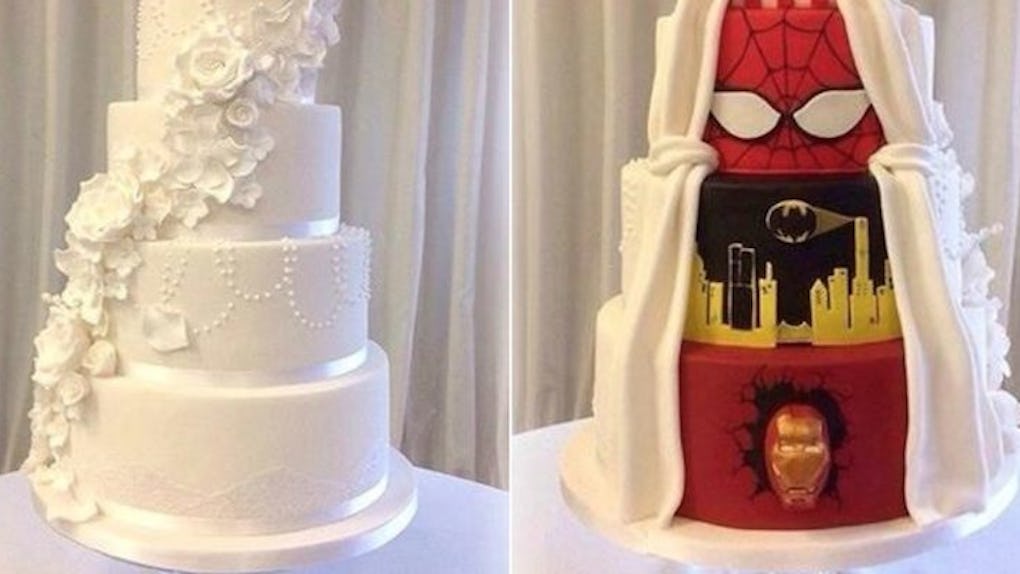 Facebook
Couple's Unique Wedding Cake Is Part Traditional, Part Superhero-Themed
When planning their wedding, UK couple Kia Parsons and Billy Bunning found themselves at a roadblock: Parsons wanted a traditional wedding cake while her hubby-to-be, an avid comic book fan, wanted something reflecting his love of superheroes.
Finally, they found a solution that combined the two ideas for one totally unique, custom cake. The couple commissioned Julia Baker of Tier By Tier to create the four-tiered confection, boasting flowers and lacy designs on one side and an homage to Marvel and DC Comics superheroes on the other.
The cake reportedly took a whopping 40 hours to create — with most of the time dedicated to assembling the detailed creation — but in the end, it was totally worth the effort.
Parsons and Bunning tied the knot on August 14, and a few days later, a photo of the amazing dessert was posted to Facebook where it attracted tons of attention.
Take a look at the masterpiece below.
This cake is all business in the front...
...and party in the back.
Julia Baker, the cake's designer, named this a "double-take cake" and promised, "I have plenty more ideas!"
Brides and grooms can visit Baker's website to get in touch with the cake designer.
Citations: Couple reaches the perfect compromise with a superhero wedding cake (Mashable), This Supremely Awesome Wedding Cake Will Make You Do A Double Take (Huffington Post)