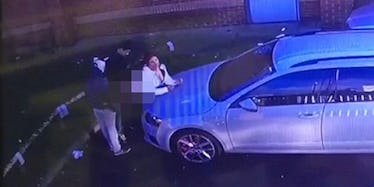 Couple Caught Having Sex On Car In Broad Daylight As Creepy Guy Tries Joining
CCTV
If you're thinking about spicing up your sex life with some hot public sex, you might want to think twice about that... I'm sure this couple wish they did!
An English couple were shamelessly having sex on top of a car in broad daylight.
According to DailyMail.com, everything was going just fine until a second man popped up out of nowhere and attempted to join the couple's sexcapade.
CCTV footage first shows the couple having sex as the woman is bent over a silver car in a parking lot. Several moments later, a stranger appears to join in on the sex as he sticks his fingers into the woman's mouth.
What a strange, cringeworthy sight that must have been!
Just as things could've taken a wild turn, the owner of the car shows up, forcing them to disband. The car owner's cousin Itchie Akhtar spoke to the Sun, saying,
They were so open about it. It was absolutely hilarious to watch, but my cousin was more concerned about his car getting dirty. We were all going crazy, laughing, shouting... 2 pm, right in front of Asda.
Akhtar then voiced how shocked he was that a second man had appeared and proceeded to shove his fingers in the woman's mouth.
Here's the moment a man attempted to join in on a couple having sex in a parking lot just before the car owner shows up.
Following the incident, car owner Mr. Akhtar said he immediately had to take his car to a nearby car wash. I hope he shells out some extra cash for the VIP buff and wax package.
Getting bird shit on your car is one thing, but returning to your car only to find humans having a full-on threesome on top of it?!
Put it in neutral and push it off a cliff... Or just sell it.
Citations: Shocked motorist finds a couple having sex on his Skoda in an Asda car park as a third man watches on in broad daylight (DailyMail.com)