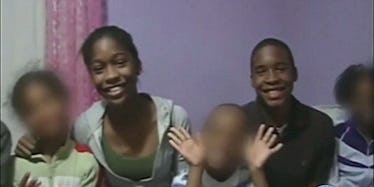 Couple Allegedly Ditch 5 Adopted Kids After Using Them To Win Dream Home On TV
WS-OCTV
Some people will do some seriously messed up things in order to get free stuff.
Case in point? Devonda and James Friday.
In December 2012, the couple was selected to be on the television show "Extreme Makeover: Home Edition." They received a new 3,900-square-foot home near Charlotte, North Carolina.
Apparently, the reason the renovation show selected this particular couple was simple.
Devonda and James – who were already caring for two foster children – had adopted five younger siblings in order to prevent the children from being split up into different foster homes.
As you can image, you need a lot of room in your home to raise seven children. Since the couple was short on space, they converted their carport into a temporary bedroom in order to accommodate all the kids.
Sounds like a really kind, generous, good-hearted couple, right?
Well, that's certainly what everyone thought. After all, the show rounded up 3,000 volunteers to help out with the renovations and add a few additional rooms to the new house.
However, the couple is now being accused of kicking the five foster children out of their spacious Charlotte residence.
If you ask me, there's a special place in hell for people like these.
WS-OCTV reports that Kamaya and Chris Friday – the oldest of the five adopted siblings – claim their foster parents threw them out of the house shortly after the show debuted.
If that's not bad enough, it turns out Devonda and James ditched the other three siblings as well. It is believed these kids are now all living with separate foster families.
Chris told WS-OCTV,
I felt like they were my mom and dad. I loved them like they were my real parents, I did. What they did to us was just wrong. They threw us all out. My brother and sisters were 5 years old. How can they get that much trouble where they have to kick them out? I know it was all about the money. From the first day, it was all about the money.
Chris also alleges his ex-foster mother upgraded from a crappy minivan to a Mercedes-Benz shortly after filming ended. SMDH.
Chris and Kamaya claim the couple sent them to live in group homes due to their "bad attitudes." But the two were allegedly told it wouldn't be permanent.
Within a year of receiving their new home, Chris and Kamaya say the couple made the other three children leave their care.
There are always two sides to every story, however. James Friday is arguing, "No one kicked Chris or Kamaya out of the home."
Instead, James alleges both foster children wanted to leave the house. With regard to the other three foster kids, James said he couldn't make any comments because of the involvement of the Department of Social Services.
Apparently, these kids aren't the first ones who have had a temporary stay with the Friday family. The couple has fostered a whopping 30 children over the years.
In addition to scoring a sweet new crib, the show also gave the couple a store for their nonprofit charity, House of Hope.
However, it appears THAT whole thing was probably a sham too. The store remains completely empty.
Citations: REVEALED: North Carolina parents who featured on Extreme Makeover: Home Edition 'gave AWAY their five adopted children after getting home of their dreams' (Daily Mail)