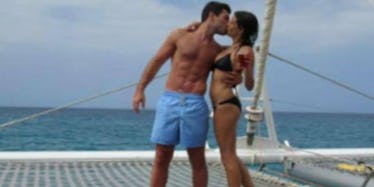 Couple Calls Off $325K Wedding After Fight Breaks Out Over 'Heartfelt Toast'
Facebook
Two families face a pricey bill for a wedding that never happened after a huge fight broke out on the eve of the big day.
Engaged couple Bradley Moss, 32, and Amy Bzura, 27, dramatically broke up during their rehearsal dinner right before their swanky $325,000 ceremony.
It all went wrong when Amy's brother Adam Bzura was preparing to make a "heartfelt toast" and present a video — which seemingly angered the Moss family, the New York Post reported.
During the fight that followed, the groom's brother Michael punched Adam in the face, and the father also tried to attack Adam, according to court papers.
The two families are now fighting again — over a lawsuit filed by the bride's father arguing about who should pay the bill.
Robert and Wendy Moss, Bradley's parents, were hosting the rehearsal dinner at NYC's Blue Water Grill in October 2016.
Tensions flared when Robert "inexplicably and angrily declared that Adam (Bzura) was not allowed to speak at the dinner," before threatening him by saying, "Do you know what I can do to you?" according to the lawsuit.
He threatened to kick Adam out before Michael Moss punched the bride's brother.
During the struggle, the New York Post reported Amy gave her fiance an ultimatum,
Make a choice, me or your mother.
However, her brother said this declaration "never happened."
During the dinner, Wendy Moss began to call guests to let them know the $1,100-a-head wedding was canceled.
And there was no hope of reconciliation, as Robert Moss threatened to cut his son out of his will and fire him if he married Amy, the lawsuit claims.
Bradley has also filed a separate lawsuit against Amy for the $125,000 engagement ring. The case remains pending.
Bruce Bzura is seeking repayment from Robert Moss for $89,919 of the cost of the wedding.
According to the New York Post, he said,
He promised to pay his share, and now he won't pay a penny.
The Moss family's lawyer described the lawsuit as "bogus."
Citations: $325K wedding nixed after brawl erupts at rehearsal dinner, suit says (New York Post)