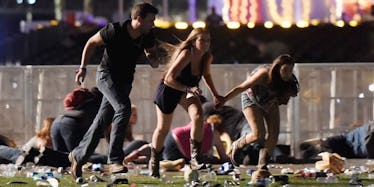 Country Music Festival Performers React To The Las Vegas Shooting
David Becker/Getty Images
Sunday night, Oct. 1, was the final day of the Route 91 Harvest festival in Las Vegas. It took a deadly turn as a mass shooter sprayed bullets into a crowd of concertgoers. Heartbreaking messages are pouring in as Route 91 performers react to the Las Vegas shooting.
UPDATE: Authorities confirm at least 50 people died and over 500 were injured in the shooting. The shooter has also been confirmed dead and is not believed to have a connection to any terrorist group.
EARLIER: According to The Huffington Post, the incident occurred during the final set of the festival. Jason Aldean was playing for about 20 minutes when bullets were fired into the crowd. The shooter was reportedly firing from the 32nd floor of the Mandalay Bay Resort and Casino. The concert was being held in a parking lot near the hotel.
According to CNN, this is the deadliest mass shooting in U.S. history. At least 50 people were killed, and at least 200 people were injured. CNN also reports that there was a crowd of 30,000 people gathered along the Las Vegas strip where the Route 91 Harvest festival was being held.
Once the news broke, messages came pouring in from country music performers -- many of whom were in Las Vegas to perform at some point this weekend. But the heartfelt messages weren't contained to only one genre of performers. Musicians everywhere began taking to Twitter to share their thoughts and sympathies to those affected by this Las Vegas shooting.
Jason Aldean, who was performing at the time of the shooting, took to Instagram to relay that he and his crew were safe and to share:
My Thoughts and prayers go out to everyone involved tonight. It hurts my heart that this would happen to anyone who was just coming out to enjoy what should have been a fun night.
Jake Owen expressed concern for those who didn't fare well in the incident.
Carrie Underwood is sending her prayers to those in need.
Thomas Rhett shared in the shock felt by many after hearing this news.
Many performers, such as Luke Bryan and Miranda Lambert, were simply heartbroken.
Performers at the fest, LANCO, extended thoughts and prayers after witnessing the incident.
Prayers were sent out from Mariah Carey.
Liam Payne shared the feeling of many that this senseless violence needs to stop.
His former bandmate, Harry Styles, took to Twitter to express his condolences as well.
As the story develops and people begin to understand what happened, you can tell from the responses that a feeling of hopelessness is permeating throughout America.
Many of the artists expressed sadness that fans coming to enjoy a show were then put into an unimaginable situation at the hands of a gunman. As Payne put it, "a place of excitement and fun turned into a war zone with such a high powered weapon," and he went on to call the incident "insane."
I can only imagine how difficult it must be as a performer to know that you are the reason people gather in such large crowds in an arena or venue like the Route 91 Harvest festival. Most times, concerts are a place of fun and joy, where artists get to interact with their fans, and fans get to see their favorite singers perform some of their favorite songs.
It's tragedies like this that can cause heavy hearts because you see just how quickly a celebration can turn deadly at the hands of one person with a powerful weapon. We saw it in Orlando at Pulse Nightclub in June 2016, and I don't think anyone thought we would see something worse in terms of fatalities — yet here we are.
As the victims and their families cope with this senseless tragedy, hopefully these words of solidarity can bring them a little bit of comfort. Of course, words are not enough to prevent this from happening again, and as many of the artists expressed, there needs to be something done to protect all people, no matter where they are, from the possibility of something like this happening again.