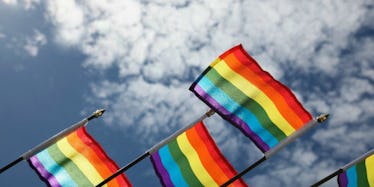 Pride Celebrations Take Place Across The Globe And Prove Love Is Love — PHOTOS
In honor of Pride, people around the world are uniting to celebrate the LGBTQ+ community.
Fun costumes and parades are staples of the annual event, and the fact that people on opposite ends of the globe are joining forces in honor of equality proves that love is love, no matter what.
Have a look at how different cities are participating.
New York City
Boston
Chicago
Houston
Istanbul, Turkey
Mexico City
Guatemala City, Guatemala
Paris
London
Dublin
Throughout the month of June, people have been ringing in the occasion in a number of ways — be it hosting a movie night, taking Lyft rides with proceeds that go toward the Human Rights Campaign, and donating to various organizations.
It has certainly been an active few weeks, though people are not pleased with the president's lack of response about the celebration.
All eyes are on President Trump today, who has yet to formally acknowledge Pride Month. In fact, there have been a number of things he's mentioned on Twitter other than Pride, including Obamacare, James Comey, and Fox & Friends, among other topics. Though Trump did send out a tweet commemorating those who lost their lives last year in the Orlando nightclub, Pulse, Trump was criticized for not mentioning LGBTQ+ rights.
Former Vice President Joe Biden is among one of the critics.
This week, Biden attended a private LGBTQ+ gala and said, "Just because you don't have Barack and me in the White House doesn't mean it's time to give up, keep quiet, stay on the sidelines," also stating that people should hold Trump accountable for not standing by the LGBTQ+ community.
But regardless of any acknowledgment issues, people are celebrating and enjoying a safe and festive month.
Wishing everyone around the world a happy Pride!