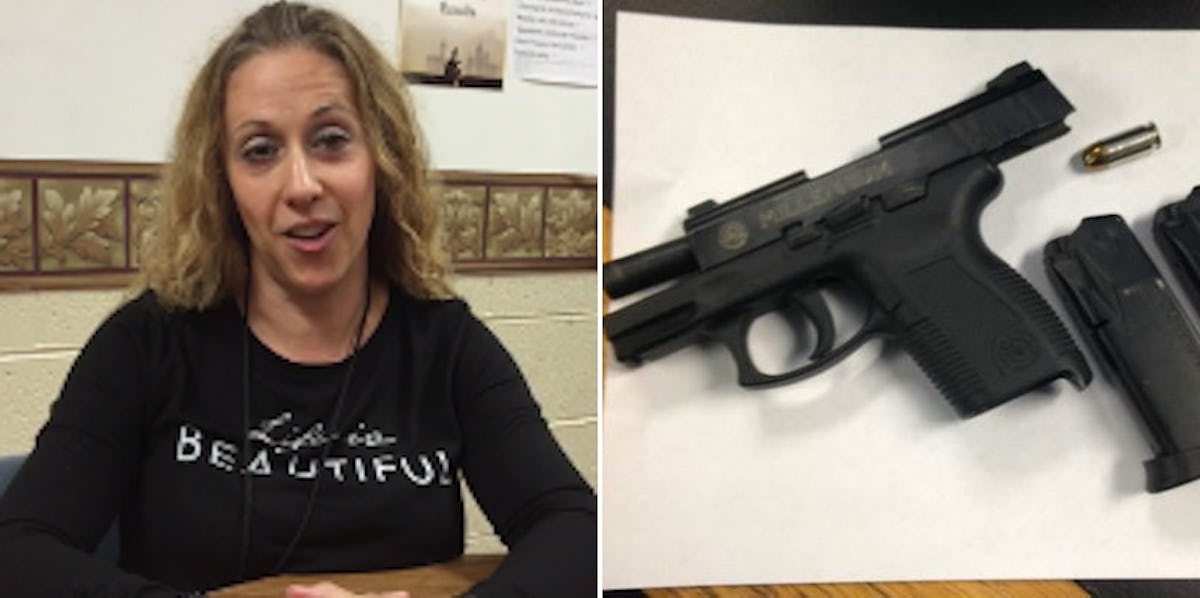 Hero Counselor Is Going Viral After Talking Student With Gun Out Of Shooting
Molly Hudgens/Cheatham County Sheriff
On Wednesday, a school counselor named Molly Hudgens at Sycamore Middle School in Ashland, Tennessee, talked a 14-year-old year male student out of committing a potentially deadly shooting.
The boy came to school with a loaded .45 caliber pistol and planned to shoot teachers and a police officer, but not students.
But he decided to go talk to Hudgens after his first period class, because he apparently knew she was the only one who might be able to talk him out of it, the Washington Post reports.
The 14-year-old student told Hudgens he was having "issues." She sensed something was wrong, and asked if he had a gun.
The boy then showed her the .45 caliber pistol tucked in his wasteband.
After speaking with the boy for 45 minutes, Hudgens ultimately convinced him to hand over the firearm.
Hudgens is being hailed as a hero by the local community for her actions.
Jessica Williams, a friend of Hudgens, told Fox 17,
I'm not surprised, she's the type of person that would be easy for her to get through to somebody. She's a very loving caring, motherly personality.
Cheatham County Sheriff Mike Breedlove said,
She did something even the most experienced law enforcement officer might not do. Had she not been there, it could have been very different.
That same day, there was a shooting at a school in South Carolina, involving another 14-year-old boy. This one, however, was not prevented.
The boy allegedly shot and killed his father, and then shot a teacher and two young students at an elementary school.
Gun violence is far too common in the US, claiming over 13,000 lives in 2015 alone.
Correspondingly, as a society, we've become far too accustomed to shootings at schools.
The devastating shooting at Sandy Hook Elementary School, in particular, comes to mind in this regard.
During a speech on gun control earlier this year addressing Congress' inaction in relation to gun violence, President Obama got emotional while discussing Sandy Hook.
It's hard to say exactly what anyone should or shouldn't do in such a situation, but the actions of Molly Hudgens were incredibly brave and admirable.
In a statement released on Thursday, Hudgens said the safety of her school is a responsibility she takes very seriously, and she described the boy as a "student in need."
Hudgens reportedly had training in de-escalating situations involving students -- and it clearly proved very useful in potentially saving many innocent lives.