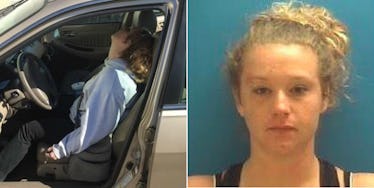 Cops Release Tragic Pic Of Unconscious Mom With Heroin Syringe And Baby In Car
Indianapolis Police Department
It happened again.
Another photo surfaced of a parent unconscious in the front seat of a car after an alleged heroin overdose. This time, her 10-month-old son was in the back seat of the vehicle.
The mother, 25-year-old Erika Hurt of Hope, Indianapolis, was found overdosed in the parking lot of a Dollar General on Saturday afternoon, the New York Post reports.
When police officers found her, she was allegedly passed out behind the wheel with a syringe still in her left hand. Her baby was crying in the back seat of the car.
Before she was taken to the hospital, Hurt needed to be revived with the opioid antidote naloxone.
She was then arrested for child neglect and possession of drug paraphernalia.
Marshal Matthew Tallent spoke with Indianapolis Star about the shocking heroin epidemic, and stated,
This is becoming a new norm for drug users. Parents are doing this more often with children in the car because they are doing it away from someone who is going to disapprove.
His words have proven to be true over and over again, as multiple photos shared in the past few months have shown children in the presence of parents who have overdosed behind the wheel.
Although there are conflicting opinions about whether or not sharing these photos will be helpful or harmful to the public, Tallent firmly believes this photo will help ease the heroin epidemic in the Midwest.
In an interview with Fox 59, he said,
My intention with these photos is not to shame the mother, although I realize it may appear embarrassing. I honestly think this picture should be used as an educational tool because I want people to see what this drug is doing.
Hopefully, Tallent is correct in his predictions, but only time will tell.
Citations: Fox59, IndyStar, New York Post