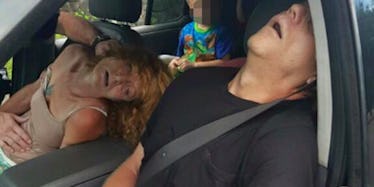 Police Release Graphic Photos To Show The Devastating Effects Of Heroin
City of East Liverpool
The US is currently embroiled in a heroin epidemic. In 2014, addiction to opioid painkillers and heroin contributed to more overdose deaths than any year on record in America: over 47,000.
To put this into perspective, the number of gun deaths in America per year is around 34,000.
According to the CDC, the heroin-related overdose death rate increased 286 percent from 2002 to 2013.
A police department in Ohio just gave everyone a firsthand look at the awful impact of this epidemic.
It shared unsettling photos of a man and a woman who were passed out in a car with a child in the backseat.
The photos were posted to the Facebook page for the City of East Liverpool, Ohio.
The status that went along with the photos stated,
We feel it necessary to show the other side of this horrible drug. We feel we need to be a voice for the children caught up in this horrible mess. This child can't speak for himself but we are hopeful his story can convince another user to think twice about injecting this poison while having a child in their custody. We are well aware that some may be offended by these images and for that we are truly sorry, but it is time that the non drug using public sees what we are now dealing with on a daily basis. The poison known as heroin has taken a strong grip on many communities not just ours, the difference is we are willing to fight this problem until it's gone and if that means we offend a few people along the way we are prepared to deal with that.
The man in the photo, James Acord, had apparently been driving very dangerously behind a school bus before his encounter with police, New York Daily News reports.
When police approached him, he was fairly incoherent and could barely talk.
Before losing consciousness, Acord told Officer Kevin Thompson he was trying to take the woman who was passed out next to him, Rhonda Pasek, to the hospital. This is apparently when Officer Thompson saw there was a young boy in the back seat, who is reportedly Pasek's 4-year-old son.
Officer Thompson called emergency services for Pasek, who was turning blue, and they administered Narcan, an opiate antidote. Both Pasek and Acord were taken to the hospital.
The boy was taken by Columbiana County Children's Services.
Acord pled guilty to operating a vehicle while impaired and endangering a child, while Pasek pled not guilty to endangering a child, disorderly conduct and public intoxication.
According to CNN, Pasek's case has not yet been resolved.