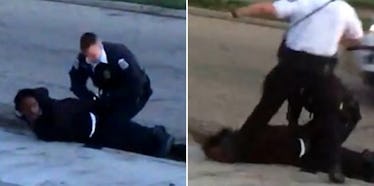 Cop Caught Curb-Stomping Man In Handcuffs 2 Weeks After He's Cleared Of Shooting
YouTube
Unfortunately, police brutality is still an issue.
While there are plenty of other "issues" throughout the country involving political corruption, ill-advised marketing decisions and celebrity scandals, it's important to remember police brutality is alive and well.
The latest proof? This heinous video of a Columbus, Ohio police officer curb-stomping a handcuffed man named Demarco Anderson on Saturday.
The shocking footage shows a police officer restraining Anderson on the ground. The suspect then asks the officer why he's being so aggressive.
Seconds later, a second officer named Zachary Rosen runs over and stomps Anderson's head against the curb.
Why? Well, it's quite hard to tell what his reasoning was. Not only is Demarco Anderson visibly calm and already in handcuffs, but he's also asking the officers a valid question.
Unfortunately for him, they decided to disregard all of his questions and answer with the use of excessive force instead. Shortly after the attack, Anderson can be heard saying,
Oh, my God! Are you serious? I got cuffs on, sir!
Here's the shocking moment a man named Demarco Anderson was curb-stomped by a vicious police officer while handcuffed.
Toward the end of the clip, Demarco Anderson can be heard claiming the officers had planted drugs on him.
He also explained why he was seen running, saying someone had shot at him so he had no choice but to run for his life.
While the unnecessary act of violence against Anderson is the worst part about this, it might not even be the craziest part.
According to DailyMail.com, the incident comes only two weeks after the grand jury "decided not to indict Rosen and another officer for shooting a black man dead in 2016."
As of now, Officer Rosen is now being investigated for "his actions" against Demarco Anderson on April 8.
The Columbus Police Department issued a statement to the IB Times, saying,
Officer Zachary Rosen is under investigation for his actions that took place involving a suspect under arrest on Saturday, April 8, 2017. Officer Rosen has been reassigned to a non-patrol duty indefinitely.
The CPD's statement added Rosen's handling of the arrest "appears to be inconsistent with [CPD's] values and training." That doesn't explain how he and another officer got away with shooting Henry Green dead in 2016.
On June 6, Green was walking with a friend of his just before Rosen and another officer pulled up in an unmarked vehicle sporting plain clothes.
The officers, who said they saw Green possessing a gun, said they identified themselves before asking Green to drop his weapon.
The man allegedly fired a shot at the officers before they returned fire, killing him with seven shots. Green's friend Christian Rutledge claims neither of them knew the two men were cops.
The investigation of Henry Green's murder sparked protests outside of the courthouse after a judge ruled not to indict Rosen and the other officer.
Along with his recent actions against Demarco Anderson, Rosen is also being investigated for the death of Henry Green by the Ohio Bureau of Criminal Identification and Investigation.
Citations: Appalling moment a white cop runs up and CURB-STOMPS a handcuffed black suspect in the head just two weeks after the officer was cleared of shooting a black man (DailyMail.com)