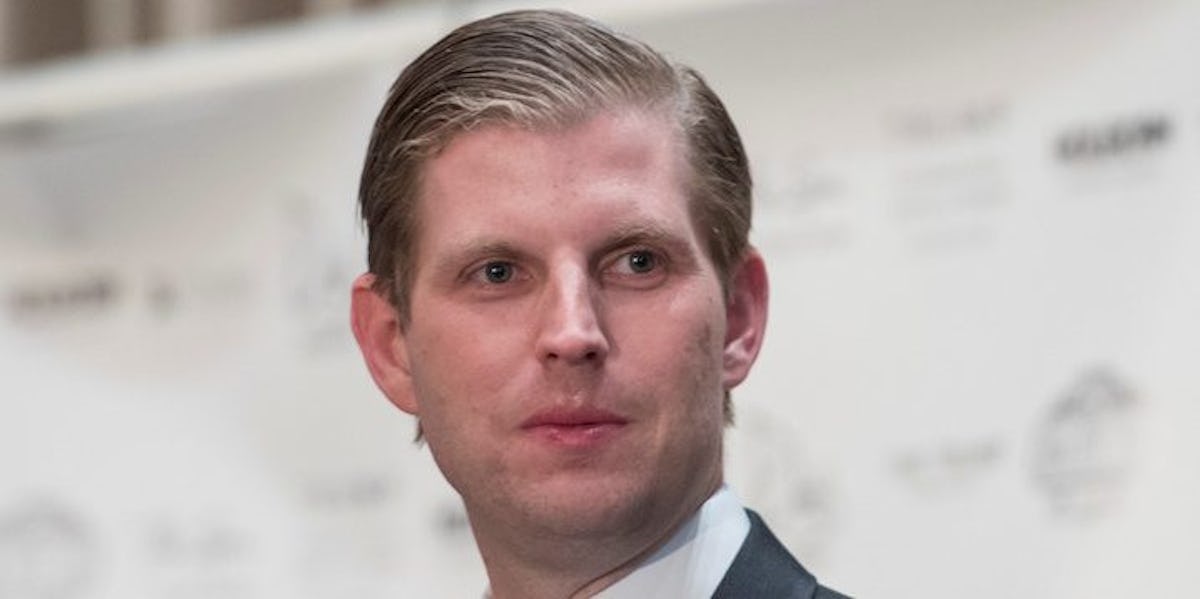 Eric Trump May Have Just Spilled The Beans On Dad's Real Motive For Syria Strike
REUTERS
If there was a competition for sons disappointing their fathers, Eric Trump would probably be in the lead right now.
On Monday, he told The Daily Telegraph what many already suspected about President Donald Trump's recent military strike against the Assad regime in Syria: It had a lot to do with changing the narrative on his ties to Russia.
The young Trump said,
If there was anything that [the strike on] Syria did, it was to validate the fact that there is no Russia tie.
By saying this, Eric Trump just made it a lot harder for his father to argue his decision was solely based on humanitarianism, which is what the president claimed in the immediate aftermath.
Eric Trump also said his sister, Ivanka, played a big role in inspiring the military strike.
He claimed she was "heartbroken and outraged" by last week's chemical attack in Syria, which killed dozens of civilians (including children) and has been blamed on Syrian President Bashar al-Assad (Russia and Syria dispute this),
While speaking with the newspaper at Trump Turnberry golf resort in Ayrshire, Scotland, he said,
Ivanka is a mother of three kids and she has influence. I'm sure she said, 'Listen, this is horrible stuff.' My father will act in times like that.
Apparently, Ivanka was not as heartbroken or outraged about her father's travel ban against Syrian refugees, which the president is still striving to implement.
It will be interesting to see how this revelation impacts Ivanka's image, as Americans are fairly split on how they feel about President Trump's actions in Syria.
A recent poll from Cosmopolitan showed Ivanka Trump has a 39 percent approval rating among Americans.
Her approval rating is significantly low among young women, as just 21 percent have a favorable view of her.
She's been under a great deal of scrutiny recently over her role in the White House and the significant influence she has in the Trump administration.
In addition to spilling the beans on what motivated the president to approve this military strike, Eric Trump revealed his ignorance on the history of the war in Syria and his father's stance toward it.
He said,
By the way, [my father] was anti doing anything with Syria two years ago. Then a leader gasses their own people, women and children, at some point America is the global leader and the world's superpower has to come forward and act and they did with a lot of support of our allies and I think that's a great thing.
But when his father spoke out against military intervention in Syria, it was actually after a chemical attack, which the US and others alleged was perpetrated by the Assad regime.
This was in 2013, which was four years ago, not two, as Trump's son suggested.
It's unclear whether the Trump administration will do anything further in Syria in terms of taking on the Assad regime.
But the Syrian government-held airbase that was targeted by Trump's military strike is still operational.
In fact, Syrian jets took off from it less than a day after Trump's strike.
What's more, by Saturday, the Syrian government was once again bombing the town where the horrific chemical attack that inspired the US military strike occurred.
Trump's military action against the Syrian government seems to have been more symbolic than effective.
Meanwhile, on Tuesday, Russian President Vladimir Putin claimed the US is planning more airstrikes in Syria, and even has plans to stage fake chemical attacks, Reuters reports.
Putin offered no proof to back up this claim.
Citations: Donald Trump's action in Syria proves he is not in league with Putin, says his son Eric (The Daily Telegraph)