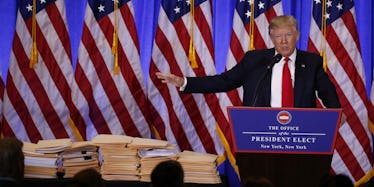 Conspiracy Theory Says Trump Used Blank Paper To Look Smarter At Press Event
Reuters
ICYMI, Donald Trump held a press conference on January 11.
I mean, you probably didn't miss it because it was a total car crash.
If anything, it left us with more questions than answers about what the president-elect has in store for us.
We've already written a handy recap trying to work out what on Earth happened, but now a bizarre conspiracy theory about the event has emerged.
Remember those stacks of important-looking documents that Trump's aides piled on a desk in front of him?
Of course you do. They served absolutely no purpose throughout the event, and everyone is completely confused as to why they were there.
Here's one possible explanation that is so darn crazy it might just be true: It was all blank paper. The folders were nothing more than a prop.
Trump himself claimed they were papers stating he had signed his company off to his sons, explaining,
These papers are just some of the many documents I've signed turning over complete and total control to my sons.
Hmm. Were they though?
CNN, Trump's favorite news organization, appeared to get closest to the folders and posted this picture on Twitter:
And writer Mikey Neumann got people talking after he came up with the conspiracy theory.
Soon, people were totally buying into the idea.
Could this really have happened?
One thing is for certain, Donald Trump thinks that Donald Trump is a very, very smart man. Maybe he tried to prove it by outsmarting the world with his blank paper prank?
Or maybe this is an ingenious (yet unlikely) double bluff, and the folders really were filled with classified documents or — whisper it — Trump's tax returns.
Were they legit? Were they a prop? Are we all missing something here?
Maybe he was trolling us completely…
What we do know is if the president-elect is as secretive about their contents as he is about relations with Russia or how much tax he really pays, we'll never find out.
Citations: Were Trump's folders at the press conference filled with blank papers? (Twitter)