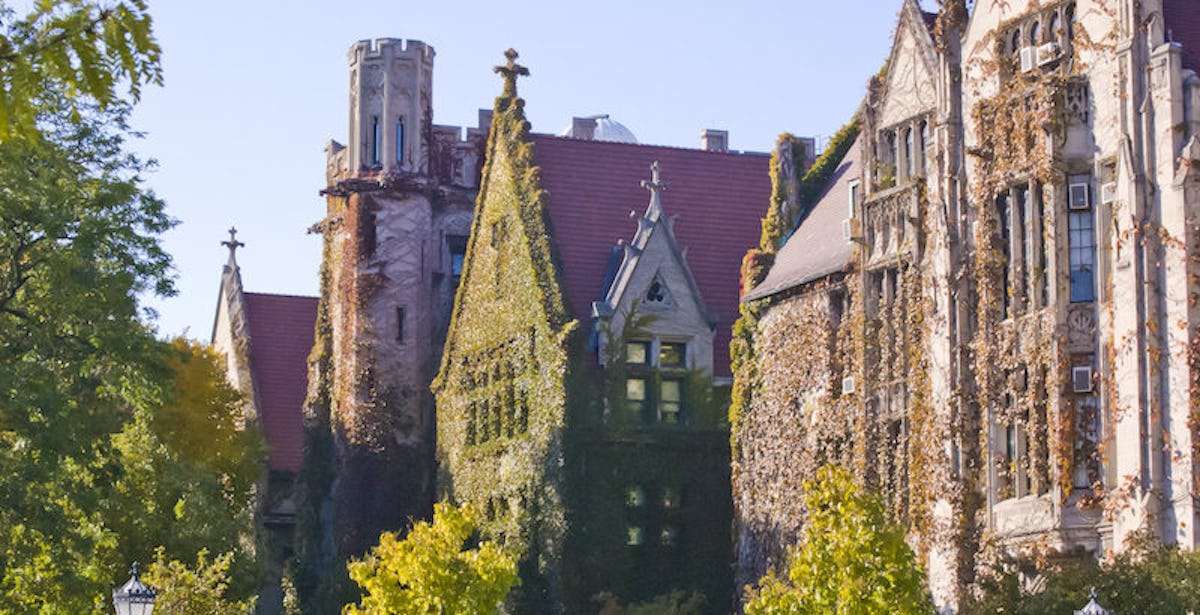 College Kid Accused Of Rape Is Claiming 'Anti-Male Bias' Against His School
SHUTTERSTOCK
The University of Chicago is being sued by a male student identified only as John Doe for "creating a gender biased, hostile environment against males."
John Doe claims his university treated him unfairly in its investigation of two sexual assault accusations made against him.
He was first accused of sexual assault of a female student back in 2014, but he was exonerated later that year. In the new suit, he claims that his accuser, known as Jane Roe, actually has a "vendetta" against him, and that the the university chose to turn a blind eye to Roe's "sexual harassment and retaliation against John Doe" following the hearings.
He also states that he found it unfair that he was removed from a physics lab with Roe after the hearings, even though he was deemed innocent.
Then, this year, Roe's friend, known as Jane Doe, posted the following tweet accusing Doe of assaulting her and many others.
The tweet allegedly inspired students to boycott a play Doe had directed for the school.
John Doe sent her a cease and desist letter, but the tweet was still up as of August 20, 2016. He filed a complaint against her, but the university chose not to take disciplinary action.
So now, Doe is suing both the university, as well as the Tweeter for defamation. He makes the argument that Jane Doe is seeking vengeance because of his sexual relationship with her friend, Jane Roe.
Doe complains in the suit that the school is in violation of Title IX of the Educational Amendments of 1972. His suit reads:
[B]y creating a gender biased, hostile environment against males, like John Doe, based in part on UC's pattern and practice of investigating and disciplining male students who accept physical contact initiated by female students, retaliating against male students, and providing female students preferential treatment under its Title IX policies.
The suit also went on to accuse the school of being "motivated by pro-female, anti-male bias," that was adopted, in part, by the university after it was publicly scrutinized for "turning a blind eye to female complaints of sexual assault."
He accuses his school of holding onto "archaic assumptions that female students do not sexually assault or harass their fellow male students because females are less sexually promiscuous than men."
The lawsuit was filed in court on August 24 and seeks $175,000 in damages.
Historically, the majority of Title IX lawsuits filed by men have been unsuccessful. That being said, in August, a lawsuit filed by a male student at Columbia was revisited by a federal appeals court.
To be perfectly honest, I'm really not sure what to make of this all.
On the one hand, everything I've been taught and most of what I believe in makes me want to say that the concept of an "anti-male bias" is total bullshit with cases like Brock Turner's happening just a few months ago.
But then I think about this guy's case and, if all of the claims I just presented to you are true — and he has been wrongfully accused twice by two different women — well then, that really does suck for him, and I really do hope justice is served on his behalf.
You can see the predicament here. What do you guys think: Does an "anti-male bias" exist? Comment here with your thoughts.
Citations: A Male Student Twice Accused Of Sexual Assault Is Suing The University Of Chicago For "Anti-Male Bias" (Buzzfeed), JOHN DOE'S VERIFIED COMPLAINT AND REQUEST FOR A TEMPORARY RESTAINING ORDER AND INJUNCTIVE RELIEF (UNITED STATES DISTRICT COURT NORTHERN DISTRICT OF ILLINOIS), Male Student Accused Of Sexual Assault Sues College for 'Anti-Male Bias' (Jezebel), Why a Male Student Accused of Sexual Assault Is Suing the University Under Title IX (The Chicago Maroon), Title IX Victory for Man Suing Over Sex Assault Finding (INSIDE Higher Ed)