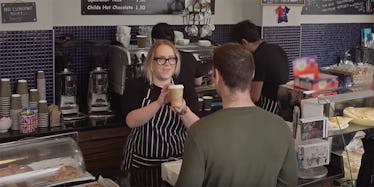 This Coffee Shop's Creepy Prank Will Make You Never Trust The Internet Again
YouTube/Direct Line For Business
There's no shame in admitting. We all do these types of things.
We all head into different establishments desperately hoping that they offer free Wi-Fi, lest we be disconnected from the world for a few minutes. We'll give our email over to anyone to join sweepstakes, and we'll definitely like any random Facebook page to get something for free.
And it's easy to do all this with little regard for how safe these things are. But this video shows why that carelessness might not be the best idea.
In a public service video aimed at British viewers, a prank was pulled at a coffee shop to show just how easy it is to gain access to customers' personal information.
On the outside of the shop, a sign signaled that customers could get free coffee for liking the store's page on facebook. In the prank video, it's shown that those same patrons' information could be easily and immediately mined.
By the time they stepped to the register to get their coffee, employees already knew things about the customers like their mothers' maiden names, their banks of choice and occupations.
Yeah, it's pretty creepy stuff, and it'll make you think next time you trust any company online.
Check out the video above for this coffee shop prank.