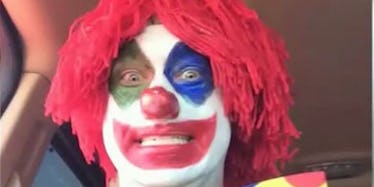 Clown Caught Having Sex With Dog Had 1,378 Disturbing Pics Of Kids On Phone
KFOR News
Over the past year, tons of scary clowns have been making headlines.
If the thought of a psycho, knife-wielding Ronald McDonald is enough to give you nightmares, you might want to close your eyes.We just came across another twisted clown that will seriously give you the creeps.
Zackery Blaine Perry, a 30-year-old firefighter and clown from Muskogee, Oklahoma, has been accused of having sex with a dog and sending photos that depict child abuse to a woman he met on the internet.
Apparently, Perry worked as a firefighter and would often dress up as a clown when teaching children about fire safety.
Police caught the clown red-nosed after 1,378 inappropriate photos and videos of children on his phone were reportedly found on his phone.
According to police reports, Perry is now facing charges of child sexual exploitation, aggravated possession of child pornography and publishing, distributing or participating in obscene material.
Plus, Perry has also been charged with crimes against nature for allegedly having sex with, or having facilitated sex with, a dog.
Seriously, what kind of monster targets kids and puppies?
Perry has since resigned from his job as a firefighter and clown.
Apparently, Perry was brought to the attention of the authorities on January 5, after a woman who Perry had met online called police claiming the clown sent her child abuse images and asked for photos of her 8-year-old child.
A probable cause affidavit revealed officers confiscated Perry's phone, and upon searching through the data, "there were photos, videos and texts discovered that the suspect Zack Perry had been involved in or facilitated the recordings of sexual acts between an adult female and a dog," Tulsa World reports.
Perry's boss at the fire department, Lincoln Anderson, commented on the allegations angst his former colleague, telling local news station KFOR, "He had things that nobody should have — children, is the bottom line."
Perry is expected to appear back in court on February 2, and a judge will decide if this clown's case will go to trial.
Citations: Firefighting clown arrested after 'having sex with dog' (Metro), Ex-Muskogee firefighter facing child porn counts also charged with 'crimes against nature' (Tulsa World)