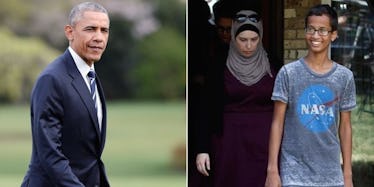 'Clock Boy' Ahmed Mohamed Got To Visit The White House And Meet Obama
Getty Images/Facebook
The Texas teenager who was arrested after his homemade clock was mistaken for a deadly weapon got to meet President Obama at the White House last night.
Ahmed Mohamed, 14, brought the clock to MacArthur High School in Irving, Texas on September 14 to impress a teacher, but police were called when another teacher suspected the electronic device was a bomb.
A handcuffed Mohamed was temporarily suspended from school and brought to a detention center but not charged.
Shortly after the arrest, President Obama tweeted an invitation for Mohamed to visit the White House.
Cool clock, Ahmed. Want to bring it to the White House? We should inspire more kids like you to like science. It's what makes America great. — President Obama (@POTUS) September 16, 2015
The teen took Obama up on his offer and attended Monday's White House Astronomy Night, which aims to inspire students to follow career paths in the fields of science, technology, engineering and mathematics, according to CBS News.
Hundreds of people and celebrities like Bill Nye and the stars of "MythBusters" attended the second annual Astronomy Night.
Bill Nye poses for selfies at #AstronomyNight at the #WhiteHouse pic.twitter.com/pdx3w3cCQE — Elissa Nadworny (@ElissaNadworny) October 19, 2015
Just another day at the office... Of @POTUS #astronomynight pic.twitter.com/FNlGcKp6BK — MythBusters (@MythBusters) October 19, 2015
Students chatted with astronauts and scientists, studied rock samples from space and stargazed on the White House's South Lawn through telescopes, according to Huffington Post.
President Obama spoke to astronauts aboard the International Space Station earlier that day and began the event with a short speech. He reportedly said,
We have to watch for and cultivate and encourage those glimmers of curiosity and possibility, not suppress them, not squelch them. Not only are the young people's futures at stake, but our own is at stake.
Mohamed reportedly visited the labs of the National Institute of Standards and Technology and met former astronaut John M. Grunsfeld. He even met Obama, who called the event "the most fun I have on this job."
White House Press Secretary Josh Earnest previously said he didn't think Obama would have a chance to meet Mohamed, but Mashable reports the pair was photographed enjoying a brief one-on-one exchange.
Ahmed withdrew from MacArthur High School not long after the arrest and since attended a Google Science Fair and visited Mecca with his family, who is looking at new schools for the teen now known as "clock boy."
The teen's family attracted controversy last week, however, when they met Sudanese President Omar al-Bashir who is wanted for war crimes by the International Criminal Court.
Ahmed's father once reportedly ran for Sudan's presidency against al-Bashir.
Citations: Ahmed Mohamed meets President Obama at White House Astronomy Night (Mashable), Ahmed Mohamed Visits The White House, Meets Obama (Huffington Post), Texas teen arrested for clock attends astronomy event at White House (CBS News)