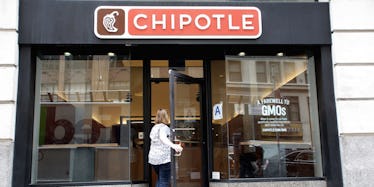 Chipotle Is Trying To Win You Back With More Free Food At All Locations
Shutterstock
Chipotle found a seemingly reliable solution to win back the trust of customers: free food.
The restaurant chain reportedly saw sales and stock prices decrease significantly due to a recent string of outbreaks of E. coli and norovirus that sickened hundreds of customers.
On Wednesday, Chipotle Co-CEO Monty Moran told CNBC the restaurants are now able to give away twice the amount of free food as usual.
CFO Jack Hartung said Chipotle has actually invoked this sales strategy since the "old days."
He told CNBC,
We've always had it, but it just kind of drifted to such a low-grade level that it was kind of non-existent.
But unlike Chipotle's nationwide annual Halloween promotion, this campaign will not equally affect every Chipotle in the country, according to Eater.
The budget for giving away free food doubled, but it is reportedly up to the manager of each restaurant to decide how to use this budget.
Hartung said the company sent out an email revealing the maximum amount of giveaways and rewards that can now be offered at each restaurant.
The specifics of these maximum allotments, however, were not disclosed.
During a presentation at a conference on Wednesday, Chipotle Chief Marketing and Development Officer Mark Crumpacker announced a new marketing campaign will be launched next month to hopefully increase customers.
The chain also recently unveiled a series of changes to its cooking methods aimed at eliminating contamination.
Hartung said the costs of these food safety improvements are partially responsible for the drops in stock prices.
He said it will likely take at least a year for Chipotle to begin regaining some of the money it spent on these improvements.
The free food campaign comes shortly after Chipotle was hit with a federal criminal investigation in relation to a norovirus outbreak at a California restaurant over the summer.
Chipotle is also being investigated for E. coli by the Centers for Disease Control and Prevention, but this investigation is possibly coming to an end.
Citations: Chipotle's new plan: Give away more free food (CNBC), Chipotle's Turnaround Plan, Step 1: Give Away Free Food (Eater)