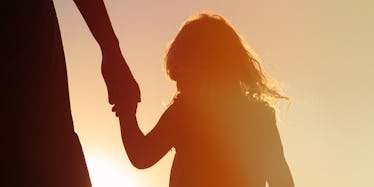 Autistic Child Raped By Up To 12 Men A Night After 'Friend' Pimps Her Out
Shutterstock
A woman who identifies herself as the pseudonym Taylor Edison is speaking out about her horrifying childhood in which she was taken advantage of by someone she trusted.
Edison, who has struggled with autism since she was a little girl, was just 12 when she was raped by nearly 12 men on a nightly basis after being pimped out by a man she deemed trustworthy, according to Mirror Online.
The report states Edison, now 22 years old, would be "lying on a filthy bed, with a box of tissues, a pack of wet wipes and a bottle of vodka beside her" as men lined up outside of the room she was forced into.
The woman, who suffers from Asperger syndrome, was no stranger to growing up unable to communicate her emotions and thoughts without difficulty.
Her life was only made worse when she "befriended" a man named Tom.
Apparently, Tom was a married man who filled the void Taylor Edison had in her life due to the absence of her parents. Edison's mother was said to have had "problems of her own."
The whereabouts of her father are unknown.
Tom and Taylor's relationship started out innocent.
I believed that we were in a relationship. I was prepared to do whatever would make Tom happy, for his own sake and so that I didn't lose my only friend.
Tom would cook for Taylor and engage in meaningful conversation with her. With the absence of her family and her inability to make friends due to her condition, Taylor found comfort in Tom.
That was until he raped her on her mother's bed.
I didn't know what he was doing when he turned me over and lay on top of me. I had read enough about sex by that time to have a vague idea of what was involved, and I was pretty sure he hadn't put his penis where it was supposed to go.
Tom then pimped her out to be raped by other men from around her town. Some of them didn't have much money to pay her afterward due to the fact they were from refugee camps.
Instead, they'd hand over some marijuana or a bottle of vodka.
I disassociated a lot from that whole time period. I don't have many memories of it. I was always drinking quite heavily. It was a role I had to fit into. I would see it as 'it's time to go to work.'
Now, Taylor Edison has released a book titled "I Know What You Are." She hopes to raise awareness about this horrifying abuse and put an end to similar scenarios by telling her own story.
In the book, she says,
I had a very blinkered childhood. I didn't really have many other children around me to compare it to.
Eventually, Taylor experienced more tragedy when she suffered two miscarriages as a young teenager because of the abusive lifestyle she was forced into.
One of the miscarriages was the result of a man pushing her down the stairs after she refused to have sex with him.
As she grew older, Taylor's life began to change. After years of brutal sexual abuse, drug use and a lack of support from anyone with a beating heart, she eventually gave birth to her first child.
That's when she knew she needed to snap out of whatever she was going through and get her life together for the sake of her child.
These days, Taylor Edison is far away from her mother's house. Instead, she's studying at a university and often seeks counseling to help with her past.
She's also using her story to help save other children. Alongside author Jane Smith, Edison has written a new book she hopes will help others realize "what is done to you isn't what you are."
Citations: Autistic girl pimped out by older 'friends' raped by 12 men a night and had two miscarriages before age 13 (Mirror)