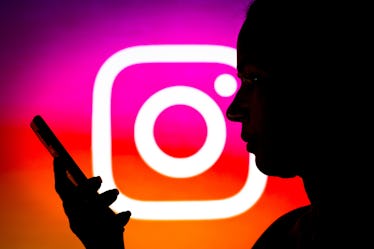 What To Know About Getting Back Your Old IG Feed If You're In The Photo And Video Test
You might have to stick it out for a while.
SOPA Images/LightRocket/Getty Images
ICYMI, Instagram recently rolled out in-feed tests that enlarge pictures and videos to become nearly the full size of your screen. The tests have been met with mixed reviews, and many users have been left wondering if they can change back their Instagram feed to make Instagram photos and videos smaller again. If you're looking to revert your IG feed back to normal, here's what you need to know about the photo and video feed test.
If you're lucky enough not to be in the test (I said what I said), let me catch you up to speed. On May 3, Head of Instagram Adam Mosseri posted a Reel to his personal IG account to announce the first feed test that expanded the size of photos and videos to fill up more of your screen. The test ran throughout May 2022, and then on June 16, the company rolled out new versions of the feed test to select users. Both tests ditch the standard 1:1 and 4:5 ratios for a new 9:16 ratio, and other than the fact that the new test does not feature white spaces above and below in-feed content, there aren't many changes between the two tests.
According to a Meta spokesperson, the May 2022 photo and video test is no longer live, so if your feed content suddenly looks more like a vertical rectangle, you know you're in the new test — you might also notice your Shop and Reels tabs have been replaced by shortcuts to make a post and send a DM
If you're in the test group and would rather opt out while Instagram works on it, you might be out of luck, at least for a while. According to a Meta spokesperson, Instagram users in the original feed test were unable to revert their feeds to the original layout, and it doesn't appear there is any way out of the new test (or future tests).
Mosseri explained in early May that the inspiration for the test came from IG's desire to create a more immersive viewing experience, but according to the comments section of the May 3 Reel, it looks like some people were satisfied with their content just the way it was.
User @BlairImani weighed in with her opinion on Mosseri's Reel, writing, "I don't love it. It feels a bit crowded and too hard to comment / meaningfully engage." Meanwhile, @Hammond_oh pointed out that the new layout might need some updating, because it "doesn't show the date the post was published." All valid points.
It's unclear how long the new test of the larger photos and videos in feed will last, and Instagram plans to roll out even more iterations of the larger in-feed content test in the upcoming months, according to the spokesperson. So even if this test ends in a few weeks, you could find yourself back in another test soon after.
If you're really not feeling the feed change, you can try spending more time in Instagram Stories, where IG recently introduced a new feature called Private Story Likes. You can keep tapping through Stories and doling out hearts while you wait for new updates about the feed test.
This article was originally published on