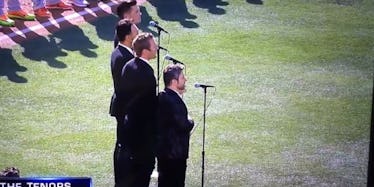 Canada Changed Its National Anthem At The All-Star Game And People Are Mad
Twitter
Since the Black Lives Matter movement first surfaced back in 2013 after George Zimmerman's acquittal in the shooting death of 17-year-old Florida teen Trayvon Martin, many misinformed people began retaliating against the movement by replying with the phrase "all lives matter."
But what many knowing and unknowing people out there fail to understand is that most people are aware that "all" lives matter. That much is obvious. Only, that's not the point being made by the activist movement. The message is quite simple: yes, all lives matter - but right now, a point is being made that black lives matter, too.
Due to the recent tragic events that have transpired in this country involving racial injustice, it shouldn't be too hard to grasp WHY this message deserves to stand as it is. And in order to enforce this message, a number of changes need to be made in the United States of America across the board.
That's precisely why people are pretty pissed about an insensitive line that was added to Canada's national anthem just before Tuesday's MLB All-Star Game broadcast. As Fox went to a commercial break in the United States, Canada's national anthem was performed by The Tenors, a Canadian vocal quartet.
Twitter user Bill Cooney uploaded a clip of the incident.
Silly Canadians! You didn't even have to go there! In addition to offending the Black Lives Matter movement and all of its supporters worldwide, you've now also offended your own country. I mean, WHO alters NATIONAL ANTHEM lyrics... ? Come on, guys!
Once the video hit Twitter, the Internet blew up as responses regarding the group's tastelessness and insensitivity started to roll in. There's been no confirmation regarding exactly what The Tenors' initial goal was with the "all lives matter" lyric swap. But I DO know that it was completely avoidable!
Check out the tweets below.
Here's a photo of The Tenors just before the incident.
I have a feeling this one's going to hurt in the morning! Maybe Drake can fix it.
Citations: "O Canada" Rendition Features Modified, Racist Lyrics (Deadspin)