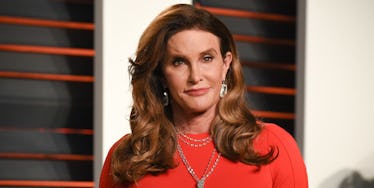 Caitlyn Jenner Says This Was The Only Thing Harder Than Coming Out As Trans
REX/Shutterstock
Caitlyn Jenner just dropped a frightening truth bomb: It was easier to come out as transgender than as a Republican.
Her comment surprised audience members as she took to the stage to talk about the Republican party's LGBTQ+ stance at the Big Tent Brunch for the RNC on Wednesday.
She said,
It was easy to come out as trans, it was harder to come out as Republican.
Caitlyn spoke about the need for a change in attitude when it comes to the trans community.
She won applause from the audience for saying,
I have seen so many trans people who have struggled for many, many years, and once they make the decision and live their lives authentically, these people absolutely thrive.
Caitlyn went on to say she has "tremendous respect for the trans community and what they have gone through."
The former athlete added,
I will tell the Republicans and I will tell Donald Trump that there are people out there who have been marginalized for so many years -- they're out there. I know it's a small 'voting' community, but they're out there. We need to deal with it properly, we need to be open about it. It is about the kids -- the next generation growing up, and we have to provide a safe environment for them.
This isn't the first time the GOP's position on the LGBTQ+ community was brought up at the RNC.
On Tuesday night, Third Eye Blind lead singer Stephan Jenkins used his stage time to totally slam the Republican stance on gay marriage.
He was booed by Republicans.
Obviously, there are a lot of strong feelings about the GOP's archaic views, so maybe it should, you know, DO SOMETHING ABOUT IT.
Citations: Refinery29