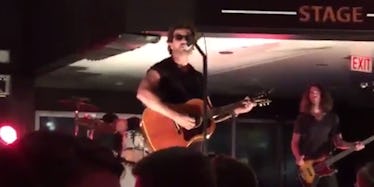 Republicans Are Pissed This Band Used Their RNC Concert Just To Troll Them
Twitter
Third Eye Blind fans at the Republican National Convention in Cleveland didn't quite get the show they wanted on Tuesday. Sassy lead singer, Stephan Jenkins, used his stage time to slam the GOP stance on things like gay marriage and climate change.
There are videos on Twitter that show the defiant rocker ranting on and telling the audience to "like it or lump it."
Apparently, the band didn't play any of their hits either, which was seen as a big "fuck you."
There's a lot of booing in the vids, as well.
In one clip, Jenkins says, "You can boo all you want, but I'm the motherfucking artist up here."
Daaaamn. Stephan was taking no prisoners.
In another video, he's heard talking about gay rights. He says, "To love this song is to take into your heart the message and to actually have a feeling to arrive and move forward, and not live your life in fear and imposing your fear on other people."
Third Eye Blind tonite at #RNCinCLE event: We believe in tolerance, acceptance (Followed by boos) pic.twitter.com/WPRIEMZmEp — Tina (@tinpant) July 20, 2016
Yep, things got pretty tasty, and opinions were split. Like is the case with all things in life, there were lovers and there were haters: