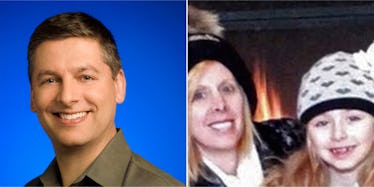 Uber CFO Steps Down So He Can Spend More Time With His Family
LinkedIn/Google Plus
Uber's CFO will be trading high-level meetings with some of the most wealthy tech moguls in the world for school plays and swim meets. And we can't say we blame the guy.
Brent Callinicos, Uber's chief financial officer, said he is stepping down from his position with the startup company, which is now valued at $41 billion, to spend more time with his family.
Callinicos will remain with Uber as an advisor and a consultant but is planning to do what he says he has wanted for a very long time.
The CFO sent an epic email declaring his leave, explaining,
After 26 years of nonstop work since MBA School, I am going to step back and spend some time with my family and let someone else take this amazing company to the next level as CFO... My daughter is in middle school; my wife has been supportively waiting to spend time with me for 28 years. I made a promise to both of them that I would be taking a long break at this stage of life.
The message is a strong and powerful one that should be seen by the entire working world. Most of us get caught up in our nine-to-five jobs from such a young age that we often forget to take a step back and enjoy the beauty of life.
I imagine it may be hard at first for the newly somewhat-retired CFO not to instinctually check his phone every time he hears one ring at his daughter's swim meets, but I'm sure he'll get used to it.
Now, all of his focus can be on the family he created before helping build one of the world's most successful mobile apps. And isn't that all a man can ask for in life?
Citations: There is no later It is now Millionaire Uber executive 48 quits to be a full time dad because every day I work I lose time with my family (Daily Mail)