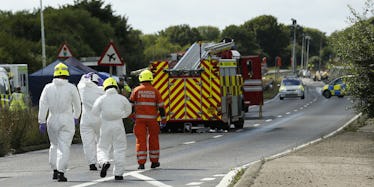 This Bride And Groom Were Tragically Killed Right After They Got Married
REUTERS
OK, guys. It's time to get the most depressing news you'll hear all day out of the way.
In the UK this past Friday, two newlyweds, named only as Paul and Sue, had just left their wedding, ready to spend the rest the lives together.
The couple were on the way home when the car they were traveling in experienced a head-on collision with a large truck. Both of them were killed.
In the car with them were family members, Joy and Derek Green, seated at the front of the car. They also died at the scene.
Joy and Derek's daughter, Melanie, posted a Facebook tribute to her late parents the day after the accident:
In the post, she calls her parents "amazing, wonderful, weird people" who opened their hearts to the world. She refers to Friday as "the worst day" of her life.
Although Melanie's post makes it fairly clear who the victims of the crash were, they have yet to be formally identified. A spokeswoman for North Yorkshire Police did confirm that four people — two men aged 58 and 63, and two women aged 57 and 60 — were killed at the scene.
The driver of the truck, a 26-year-old man, was not injured in the accident.
What we do know is that the two couples were in a Suzuki Ignis when they collided with the HGV truck. There was also a second car, a Honda Jazz, which "sustained damage from the debris of the collision."
Fire and rescue, road and air ambulances were all immediately called to the scene. Investigators have examined the scene, and the police are now asking for any witnesses of the collision or even anyone who saw either vehicle before the crash to contact North Yorkshire Police.
Let's keep these grieving families in our hearts and minds today.
Citations: Bride and groom killed in head on collision on way home from wedding (Metro News)