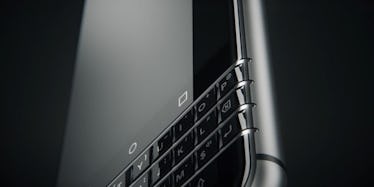 BlackBerry Releases Epic New Touch-Screen Model And It's Cheaper Than iPhone
TCL
Guys, it's actually happening — BlackBerry is making a comeback.
Rumors have been swirling for a while now that a brand new BlackBerry cell phone might be released out of nowhere in 2017, and now our dreams have become reality.
And yes, it features a genuine, non-virtual QWERTY keyboard, just like the old ones.
This is the BlackBerry KEYone, and it's going to be available starting in April.
Its existence has just been confirmed by Chinese cell phone manufacturer TCL Communication, who announced it at the Mobile World Congress in Barcelona.
And if you're looking for a reason to be the first of your friends to jump back on the BlackBerry bandwagon, it's going to be cheaper than the iPhone 7.
The KEYone will retail at $550, according to Phone Arena, while the 7, released last year, initially cost $650 to $850.
And not only that, it looks pretty stylish — but let's be real here, it's all about the keyboard.
Sure, your iPhone or HTC has a virtual one, but it's just not the same as tapping on actual keys, am I right?
BlackBerry has attempted a reboot a few times in recent years, but found little success in the crowded smartphone market, especially compared to how pretty much everyone had a BlackBerry for a while in the mid-2000s.
Most people moved with the times, of course, but the phone retained some loyal fans including, most famously, Barack Obama.
But bringing the keyboard back might be the heavy dose of nostalgia that needs to be created for the BlackBerry to be a legit phone option again.
TCL also believes the physical keyboard will make it easier to use than your typical touch-screen phone.
You'll also be able to program the keyboard with 52 shortcuts, like pressing "M" to take you straight to maps.
Other features include a 4.5 inch display and front and rear cameras. It will also run on Android 7.1.
Apparently, it will have a long battery life and will charge quickly, which is nice.
And TCL has gone big on security — the KEYone will include a fingerprint sensor in the keyboard space bar and will alert the user if a privacy breach is detected.
Citations: Phone Arena