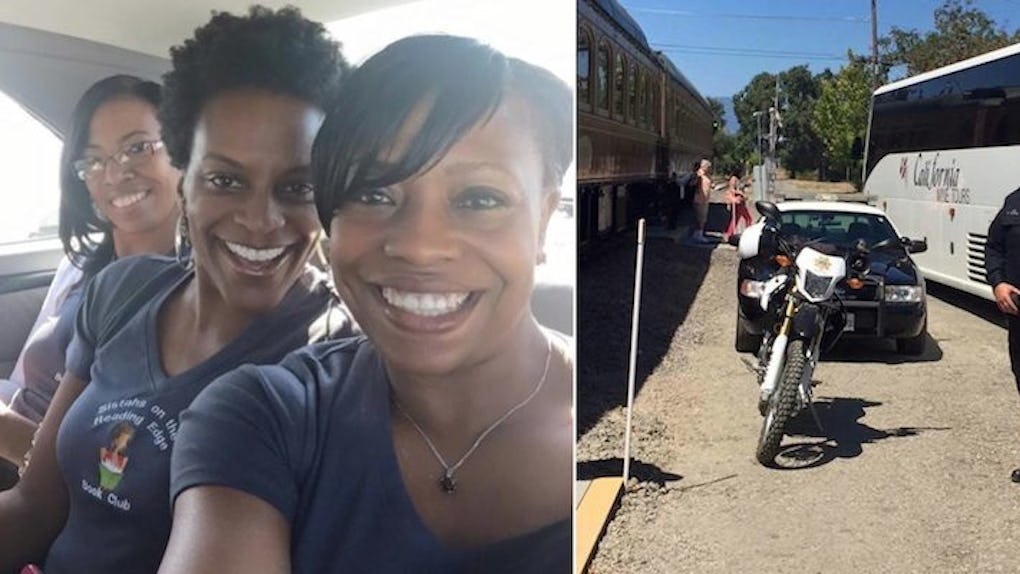 Facebook
Black Women In Book Club Allegedly Kicked Off A Wine Tour For Laughing
I was raised without the crucial knowledge that wine tours are times for silent, sober reflections, and there can't be any eye contact or enjoyment of any kind.
Basically, wine tours are quiet church services.
Lisa Johnson and her book club friends were also unaware of these unspoken rules when a police officer ushered them off the Napa Valley Wine Train.
According to the company, the train manager asked the women in the book club, which reportedly included an 83-year-old grandmother, on more than one occasion to keep it down after fellow riders complained they were carrying on loudly. One of these fellow passengers allegedly approached the ladies and said,
This isn't a bar.
None of the ladies were "intoxicated" by Johnson's account, though she mentioned they had their rambunctious moments.
By the time the manager made a second effort to single out the book club, she said part of the group fell silent. The manager apparently told the group,
This isn't going to work.
At the next stop, the women were delivered to members of the Napa Valley Railroad and St. Helena Police Departments. Johnson expressed her embarrassment to the San Francisco Chronicle.
She said,
People were looking at us. To get escorted into the hands of waiting police officers. That's the humiliating part.
Following the incident, a fellow customer posted a review on Yelp insisting the incident was racially motivated.
The NVWT posted its own version of events on Facebook but deleted the post soon after.
Johnson insisted,
They knew they were out of place.
Citations: Napa wine tour accused of racism after kicking out a group of black women for 'laughing too loudly' (Daily Mail)