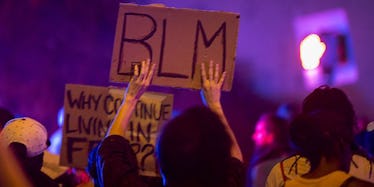 Black Lives Matter Is Giving The Best Mother's Day Present To Women In Jail
Getty Images
Groups affiliated with the Black Lives Matter movement are giving a huge Mother's Day gift to women in jail: freedom.
A group of organizations including Southerners on New Ground, the Movement for Black Lives, Color Of Change has raised over $250,000 to bail more than 30 women out of jail this week, according to the Nation.
The women have not been convicted of crimes. Rather, they have been awaiting trial and cannot afford to pay bail, The Nation reports.
The group's efforts are culminating in an event it calls National Mama's Bail Out Day as it seeks to draw attention to the arrests and subsequent jailing of people who are accused of committing low level offenses.
There are around 450,000 people who are jailed without being convicted of crimes, according to a report from Marketplace that came out last October. Under former President Barack Obama's administration, the Department of Justice argued that it is unconstitutional to hold defendants in jail because they cannot afford to meet bail.
Marbre Stahly-Butts, a leader in the Movement for Black Lives, one of the organizations involved, said that National Mama's Bail Out Day is what is being done in the immediate term to address concerns about bail payments.
Stahly-Butts told the Nation,
We have to be doing that. But we also can be collecting our resources to make a direct impact on the material conditions of our people who are in cages right now.
According to the Nation, the Mother's Day initiative is a result of a January meeting of black-led organizations focusing on bail reform.
In Memphis alone, the Black Lives Matter chapter located in the city worked to raise $35,000 to bail women out for Mother's Day. Organizer Erica Perry told local Memphis station News Channel 3,
We're asking our community members to think how they spend Mother's Day, how they celebrate and honor the women who they love.
If the Black Lives Matter movement is successful in this latest initiative, there are a number of mothers who might be celebrating in much more comfortable a fashion than they'd imagined.