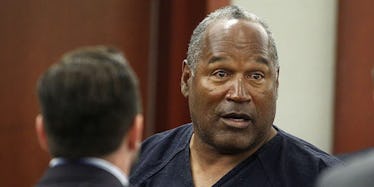 All The Best Tweets And Memes About OJ Simpson's Parole Hearing
Pool / Getty Images
On Thursday, June 20, a parole hearing for OJ Simpson took place. Simpson went before four members of the Nevada parole board to determine whether he will be released from prison early, after serving eight years of his 2008 sentence for several felony convictions including kidnapping and robbery.
The board is conducting a hearing in Carson City, while Simpson joins via video conference from Lovelock Correctional Center. Because of the high-profile status of the case, the verdict is expected to be reached within the day, and the internet is having a field day, sharing all of their personal best memes and tweets about Simpson's parole hearing.
The hearing is a highly anticipated "event," thanks to Simpson's fame and the controversy surrounding him over the years. In 1993, he was found not guilty for the deaths of his ex-wife Nicole Brown Simpson and Ron Goldman.
Questions have arisen as to whether the parole hearing will be completely independent of the 1995 trial; and some viewers undoubtedly will be watching the hearing through the double-murder lens. This hearing, however, pertains to his robbery conviction from 2008, when he was sentenced to 33 years after he was found guilty of entering a hotel to take sports memorabilia. Simpson claimed that the memorabilia had been stolen from him and he was trying to get it back, and that he didn't know the men with him were armed.
One Twitter user shared the "freedom" gif in anticipation of the big event.
Some made jabs about winning the presidency....
...and about the size of the 2017 inauguration.
Not even conservative commentator Ann Coulter was safe from jokes.
Then, of course, there's this Hertz commercial Simpson did back in the day that some users pointed out.
Some users focused more on the social significance of the hearing, calling out institutional racism and the criminal justice system.
USA Today focused on what Simpson would look like and what he'd be wearing (is this reality TV or a parole hearing?):
And others were focused on what the judicial outcome would, or should, be, with numerous users posting Twitter polls asking whether Simpson should be granted parole or not.
And one user even called out all the polls being tweeted.
And as always, some people were just plain looking forward to the big event.