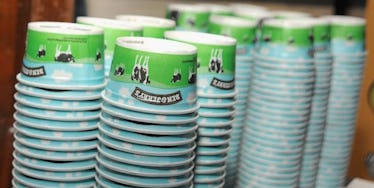 Ben & Jerry's Just Issued A Recall, But Don't Panic Until You Know These Details
Getty Images
Ben & Jerry's just issued a recall, but if you planned on indulging in some Coffee Toffee Bar Crunch during a TV binge session tonight, don't fret.
There is no reason to empty your freezer of sugary Half Baked pints or Mint Chocolate Cookie containers.
Take a deep breath and stop hyperventilating — we ice cream lovers are going to pull through, I promise.
According to the FDA, Unveiler, the company that owns Ben & Jerry's, decided to recall a limited number of Ben & Jerry's Chocolate Fudge Brownie Pint Slices.
If you've eaten one (or seven) of these babies within the past few days, don't worry — it has nothing to do with the quality of the food.
The boxes potentially contain individually wrapped Ben & Jerry's Vanilla Peanut Butter Cup Pint Slices and do not make mention of the ingredients on the packaging. Since peanuts are a highly sensitive food that can cause severe allergic reactions, the company has to be extra cautious.
Before diving into your dessert spoon first, the ice cream company asks that you take a look at the expiration date. If it reads "AUG1218LT2," that's a sign to toss.
Fortunately, though this all resulted from a consumer complaint, no customer has been affected by the issue.
According to a Ben & Jerry's press release,
Unilever has not received any reports of illness associated with this product, but the company is voluntarily recalling this product out of an abundance of caution.
It's nice to know the company takes its complaints seriously and will do whatever it takes to ensure the well-being of ice cream lovers everywhere.
Not only is Ben & Jerry's super-concerned with customers, it takes an issue with what's happening in the world.
Do you know of any other ice cream company that hosts kick-ass concerts in its home state or makes sure to stand by important social issues? Let's give credit where credit is due!
It's because of wonderful things like this that Pistachio Pistachio (my favorite Ben & Jerry's flavor) will always have a special spot in my heart... and a spot in my freezer.
Citations: Ben & Jerry's Issues Allergy Alert on Undeclared Peanut in Limited Quantity of Chocolate Fudge Brownie Pint Slices (Ben & Jerry's)