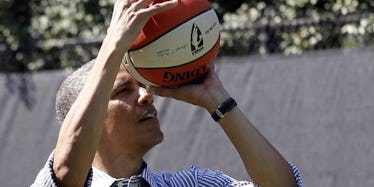 Obama's Wildcard March Madness Predictions Will Make You Rethink Your Bracket
REUTERS
It's the middle of March, which means one thing: It's that time of year when all of America suddenly cares about college basketball.
Yes, March Madness is back, and if you're already feeling like your bracket is doomed, you'll wish you took some advice from a certain ex-president who has had some success before.
Back in 2009, Barack Obama correctly predicted the University of North Carolina would take home the crown.
The former president — and huge basketball fan — has just released his 2017 bracket, so you might want to pay attention.
According to Obama, this year will be a repeat of 2009 with UNC taking home the title.
I mean, it's worked for him before, right?
Obama has UNC taking down fellow No. 1 seed, Duke, in the final.
If his prediction for the final is correct, it would be an epic matchup, as the rivals are located just 10 miles apart from one another in North Carolina.
And if you want a "Cinderella" story, the ex-POTUS thinks you'll find one in the University of Michigan. He has the Wolverines upsetting No. 2 seed, Louisville, and No. 3 seed, Oregon.
He's also predicted potential bracket busters in Notre Dame upsetting Gonzaga and Cincinnati beating UCLA.
I'm now in a slight panic and having a major rethink because none of my Final Four make his Final Four.
Thanks, Obama.
And if you're a fan of NCAA women's basketball, you'll want to check out Obama's picks for the tournament.
In news that will surprise zero basketball fans, he has picked highly fancied UConn to retain last year's title by seeing off Notre Dame in the final.
But first they'll have to get past Washington, according to Obama, who have the best player in the country in Kelsey Plum.
Obama has released brackets every year since he became president in 2009, but only got the winner right his first time. This will be the third time he has predicted UNC to take home the crown.
However, if you're hoping for more presidential wisdom to influence your bracket, you won't find it from Donald Trump, who turned down ESPN's invitation to submit picks.
Citations: Barack-etology returns! Obama makes his March Madness predictions after Trump 'respectfully declined' to submit a bracket himself (DailyMail.com)