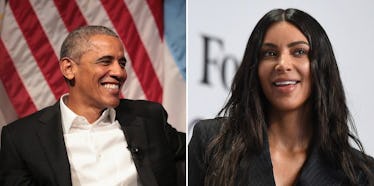 Barack Obama Did Karaoke With Kim K And Kanye And Why Weren't We There Too
Scott Olson/Getty Images / ANGELA WEISS/AFP/Getty Image
Can you imagine Kim Kardashian belting out "Bohemian Rhapsody" in a dive karaoke bar while strobe lights circle and some awkward '80s stock video of people chasing each other around a tree plays? No? What about Kanye West? Or best of all, former President Barack Obama? Well, it might have happened for real. Obama did karaoke with Kim Kardashian and Kanye, according to a video interview published by The Hollywood Reporter on Aug. 16.
As part of a profile celebrating ten years since the debut of Keeping Up With The Kardashians, the Kardashian-Jenner clan asked each other questions on video. Most of the questions were pretty innocuous — who throws the best parties, what's the worst rumor you've heard about your family, so on, so forth. And then, out of nowhere, came this spectacular gem of celebrity information: Kim K has done karaoke with Obama.
"I've done karaoke one time," Kardashian said. She added,
I could never sing, but it was so cool. It was with Obama, Kanye, and like, maybe 15 people. And it was insane.
But she doesn't offer any more details. The video then breezes past to the next question, leaving us all going, "but wait! There's so much I want to know!"
What? How? You can't just leave it there!
Seriously, how was it insane? What did they sing? Did Kanye do his own songs? Was Michelle there? We know she can rock some karaoke.
Kardashian also told Vogue about the karaoke extravaganza as part of a September issue profile of friend Serena Williams, who was also there (and, it's implied, masterminded the whole thing). While there are few extra details, Kardashian describes it as a dinner in San Francisco ahead of a DNC fundraiser.
With so few details, we'll have to rely on imagination to tell us how awesome it was.
As of right now, I have a fond fantasy of Michelle doing a slamming version of "Down With The Sickness," while her husband lines up "(I've Had) The Time Of My Life."
Karaoke, if done right, is difficult. It requires a certain je ne sais quoi, a willingness to be ridiculous, and (hopefully) the ability to sing. Do the Obamas have what it takes?
Yeah, probably. Hey, we know Obama can carry a tune.