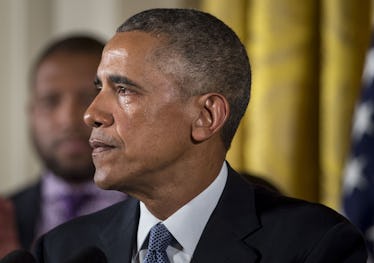 Obama's Insta Post About The Uvalde School Shooting Is Way Too Familiar
I can't believe this is not the first time he had to say this.
Anadolu Agency/Anadolu Agency/Getty Images
On May 24, just two days before students were to begin summer break, 21 people were killed in their classrooms during a devastating mass shooting event at a Texas elementary school. The incident quickly became the most deadly mass shooting event in the state's history, and one of most deadly school shootings in the country. While people all over the nation are mourning this loss, it's far from the first time this feeling has struck the United States. Barack Obama's Instagram about the Uvalde school shooting is way too familiar, and it's absolutely heartbreaking.
"Across the country, parents are ... worried about what might happen tomorrow after they drop their kids off at school, or take them to a grocery store or any other public space," Obama wrote in his May 24 post. "Michelle and I grieve with the families in Uvalde, who are experiencing pain no one should have to bear," Obama added. "We're also angry for them."
According to several news sources, the shooting started at approximately 11:30 am local time on May 24, when the gunman arrived at Robb Elementary School in Uvalde, Texas, and barricaded himself inside a classroom. At least 21 people were killed, 19 of whom were children, before the gunman was fatally shot by law enforcement.
It's the deadliest school shooting since 2012's shooting at Sandy Hook Elementary in Newtown, Connecticut, in which 26 people, including 20 children, were killed. In his May 24 post, Obama remarked on the comparison. "Nearly ten years after Sandy Hook — and ten days after Buffalo — our country is paralyzed, not by fear, but by a gun lobby and a political party that have shown no willingness to act in any way that might help prevent these tragedies," he wrote, also referencing the May 14 shooting in Buffalo, New York, when a gunman killed 10 people in a grocery store, in what authorities say appeared to be an anti-Black hate crime.
Back in 2012, Obama shared words that — 10 years on — shows how little has changed. "As a country, we have been through this too many times," the then-president said in a speech on Dec. 14, 2012. "Whether it's an elementary school in Newtown, or a shopping mall in Oregon, or a temple in Wisconsin, or a movie theater in Aurora, or a street corner in Chicago — these neighborhoods are our neighborhoods, and these children are our children. And we're going to have to come together and take meaningful action to prevent more tragedies like this, regardless of the politics."
Since the shooting at Sandy Hook, laws surrounding firearms have only gotten more relaxed in many states, and gun-related violence throughout the nation has only grown more common: According to data from the Gun Violence Archive, from 2014 to 2020, the number of mass shooting events across the nation increased from 269 to 611. And in 2022 alone, hardly 21 weeks into the year, the United States has already seen 213 mass shootings, per NPR.
People across the country (and the world) are calling the nation's issue with gun violence a public health crisis, and are demanding immediate action on passing legislation on gun reform. "It's long past time for action, any kind of action," Obama wrote. "And it's another tragedy — a quieter but no less tragic one — for families to wait another day."