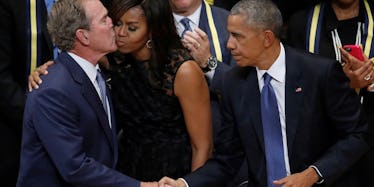 Obama Won't Like George W. Bush's Explanation For Pics Of Him Cuddling Michelle
REUTERS
It looks like we aren't the only ones who are swooning over Michelle Obama.
Why? Because George W. Bush is pulling a Justin Trudeau, and we're afraid he's going to steal Barack's woman (JK — he's married, BUT STILL).
It appears the former conservative POTUS is totally wooed by Michelle because he completely gushed over her in a recent interview with People.
Needless to say, we aren't too sure how Barack's going to feel about Bush's words of admiration.
During the interview, Bush talked about two particular times he's been seated next to Michelle Obama at past political events, including Nancy Reagan's memorial service last year and the opening of the Smithsonian's National Museum of African American History and Culture in September 2016.
At the events, George and Michelle got super close (like, really close) and the pictures went viral.
Before talking about the photos, Bush expressed his sincere affection for Michelle (cover your ears, Barack).
Bush said,
She kind of likes my sense of humor. Anybody who likes my sense of humor, I immediately like.
Barack, I said cover your ears!
Bush continued,
I can't remember where else I've sat next to her, but I probably have a few wise cracks and she seemed to like it OK. I needle her a little bit and around her, I'm fairly lighthearted. [The Obamas] are around serious people all the time, and we just took to each other. When I saw her, it was a genuine expression of affection.
OK, OK.
As much as his sentiment about Michelle makes us a little uneasy, we definitely can't blame him. I think we all have a genuine expression of affection when we see Michelle.
Plus, the bond between the Obamas is super strong, and I truly don't think there's anything to be worried about concerning their loving relationship.
If anything, Barack probably appreciates Bush's kind words about his wife.
Citations: George W. Bush Breaks Down His Affection for Michelle Obama: 'We Just Took to Each Other' (People)