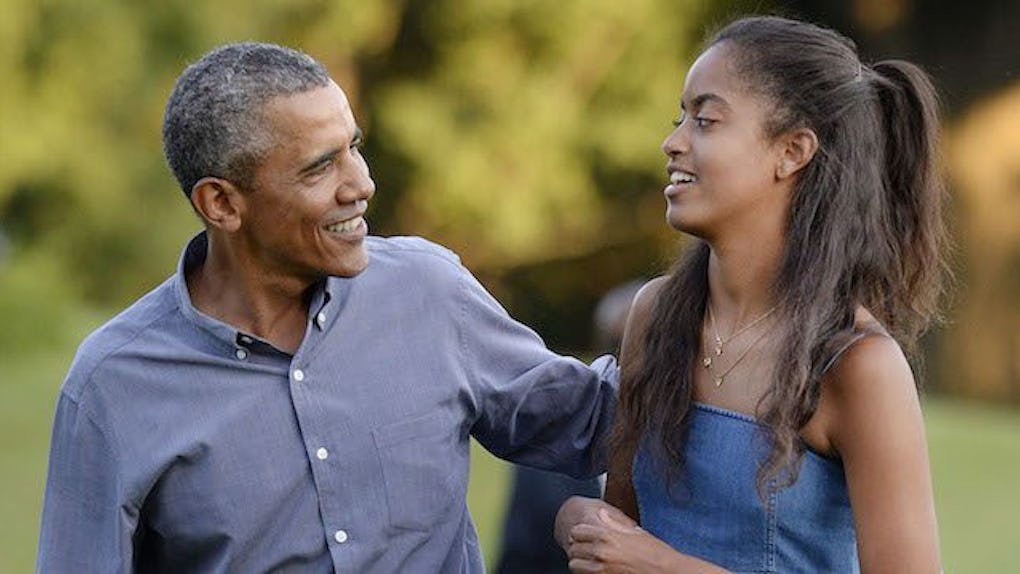 REX/ Shutterstock
Video Of Barack Obama Talking About Malia's Harvard Move-In Day Is Pure Dad, & So Adorable
No matter where you stand politically, there are some things you kinda have to appreciate about Barack Obama. For example – he has more charisma than pretty much everyone in the world combined, his relationship with Michelle is forever #goals, and he's a great dad. The latter was proven (once again) when the former president recently opened up about about his relationship with his eldest daughter. Basically, it turns out that Barack Obama cried when he dropped Malia at college, and pass the tissues because this is all too beautiful.
On Sept. 25, Obama spoke at a reception for the Beau Biden Foundation for the Protection of Children, a non-profit started by the family of former Vice President Joe Biden. The organization, which focuses on online safety and sexual abuse prevention, was founded after Biden's son Beau died of brain cancer in 2015. Obama was on hand to offer his support and, per CNN, "lend (his) voice ... to a family that (he cares) deeply about, to honor a man that (he) thought the world of." He said,
It is proper and right that somebody as thoughtful and genuine and strong as Beau made it one of his missions that every child has protection.
The 44th president also discussed the joys and challenges of being a parent, including his own struggles with watching his daughters grow up.
Remember when Obama was spotted dropping his 19-year-old daughter Malia off for her first year at Harvard University? Well there was a litttttle more to those pictures than met the eye.
Obama told the crowd that that day felt "a little bit like open-heart surgery." He explained,
I was proud that I did not cry in front of her. But on the way back, the Secret Service was off, looking straight ahead, pretending they weren't hearing me as I sniffled and blew my nose. It was rough.
Nope. I'm not crying right now. You're crying.
Twitter was having some serious ~feelings~ about this revelation.
The former president also added that no matter what has happened in a parent's life, the most important parts will always be the time they spent with their children. "It's a reminder that at the end of our lives, whatever else we've accomplished, the thing that we'll remember are the joys that our children, and hopefully way later, our grandchildren bring," he said.
If all of this isn't enough to make you want to hand Obama every single Dad of the Year award, there's more.
This isn't the first time that the former president has opened up about crying over his daughter leaving the nest. During an appearance on The Ellen Show in 2016, he explained, once again, that the whole moving out thing was making him very emotional. He said.
I was asked if I would speak at her graduation and I said absolutely not because I'm gonna be sitting there with dark glasses sobbing. She's one of my best friends. . . . She's just a really smart, capable person. She's ready to make her own way.
Now, don't go thinking that in the midst of all this lovely parenting stuff, I somehow forgot about Obama's second love. The bromance between Obama and Biden appears to be very much alive, and the former vice-president got up on stage and thanked his friend for supporting the foundation. He said,
Mr. President, you've been a great friend. Everybody, I think what they miss most is our memes, Mr. President, I can't surprise you by giving you a medal of freedom, but I can give you a group of people who think you brought a lot of freedom to this country.
So, basically, let's all just spend whole rest of today looking at pictures of Obama with his daughters, and also Obama eating ice cream with Biden.