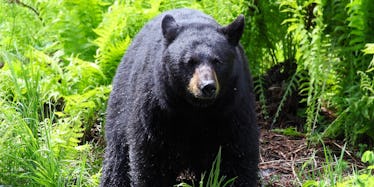 Badass Camp Counselor Survives Bear Attack, Still Says He's "Not Afraid Of Bears"
Wyatt Rivard/Shutterstock
Have you ever woken up with your head inside a bear's mouth?
Yeah, me neither.
But, in yet another tale of human-versus-beast, a camp counselor in Colorado found himself in this exact, terrifying, bizarre, "holy-f*cking-sh*t, I'm actually inside a bear's mouth" situation.
Never complain about waking up with a hangover ever again. You might have a headache, but at least your cranium isn't literally trapped between the jaws of death.
The 19-year-old counselor in question, identified only by his first name, Dylan, was asleep in the mountains northwest of Boulder, Colorado when the bear woke him up in a not-so-friendly way.
Dylan told Denver ABC-affiliate KMGH he could feel the bear's teeth scraping against his skull.
The bear was trying to drag him out of his sleeping bag.
Dylan said,
It grabbed me like this and pulled me, and then it bit the back of my head and dragged me. When it was dragging me, that was the slowest part. It felt like it went forever.
Eventually, fellow staffers and campers woke up, noticed their comrade was fighting a bear, and did what they could to help scare the massive animal away.
The bear ultimately dragged Dylan about 10 to 12 feet, let go, and went on its way.
He was taken to a nearby hospital, got nine staples to his head, and has already been released.
Don't be afraid of bears, this isn't normal.
Bears live in the forest. If you enter the forest, you might encounter them. If they approach humans, it's often because they're curious or simply hungry.
Although there's been a small uptick in bear attacks in some parts of the U.S. recently, such as Alaska, they are extremely rare in general.
Dylan seems to understand this, and has a good attitude about respecting nature/wildlife.
He told KMGH, "I'm not afraid of the bears. I'm not afraid of sleeping outside anymore. You just have to be aware and respect the animals."
Camp must go on.
The camp Dylan works at, Glacier View Ranch, which is owned by the Rocky Mountain Conference of Seventh Day Adventists, is not canceling any of its plans for the rest of the summer.
No bear attack will ruin a summer full of zip-lines, go-carts, and canoeing, "all in a safe, Christ-centered atmosphere" (according to the camp's website).
Camp will continue!
Remember to apply sunscreen, campers.
Anyways, this is all one big metaphor for America's current troubles with Russia.
The term "Russian Bear" is a phrase sometimes used to refer to or symbolize Russia.
It's safe to say Dylan's encounter with the bear in Colorado is a sign the U.S. will ultimately prevail in its current struggles with Russia (aka the Russian Bear). America will not be defeated!
OK, there's literally no evidence whatsoever to support this assertion, but it's a nice thought.
Well done, Dylan, you American badass. We're glad you're OK.
Sadly, the bear will reportedly be euthanized, given its behavior was extremely uncommon as the attack was completely unprovoked.