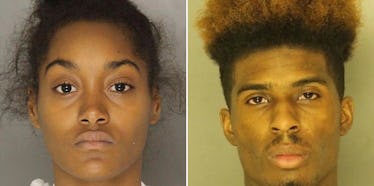 Woman Smothers Her Baby To Death To Get Revenge On Cheating BF
Allegheny County PD
We live in a mad, mad world.
A Pennsylvania woman and mother-of-two has been charged with both murder and attempted murder this week. It all started when the 21-year-old woman named Christian Clark had gotten into a fight with her boyfriend Andre Price Jr.
The "fight," which took place over text message, stemmed from Christian accusing Andre of cheating on her. The mother-of-two threatened to get revenge on Andre for his actions by killing their two children if he didn't go back home to her.
Christian Clark told Andre Price Jr. that she would "ruin both our lives" if he didn't return, according to KTLA.
As a result, Clark allegedly killed her 17-month-old son Andre first before allegedly attempting to kill her 2-year-old daughter.
What makes this story even sicker than it is already is the fact that Clark texted, "Andre is dead cause daddy couldn't tell the truth," after the heinous act.
Clark then continued blasting Price over text message and asked him to admit all of his wrong-doings to her, or else she would continue harming their children.
At some point during the incident, Clark began sending Price text messages and videos of their deceased son lying lifeless on their bed. Clark allegedly later told Price that if he wanted kids, he could go make "new" kids with the woman he was cheating on her with.
She then asked him if it was "easier planning your child's funeral or telling your babies' mom you didn't want to be around her."
The text message communication eventually ended with her saying,
Sorry I did this. I [swear to God] I didn't mean to.
She then called 911.
When paramedics arrived at heir home, the couple's son was taken to the hospital where he was soon pronounced dead. As for their 2-year-old daughter, she was assessed for her injuries, which were said to be minor.
Christian Clark was eventually arrested and jailed at the Allegheny County Jail without bond. As for Andre Price Jr., reports originally stated that he wouldn't face any charges.
However, a recent update from the Allegheny County police department states that a second arrest has been made and Andre Price Jr. is the arrestee.
Price has been jailed without bond and charged with child endangerment for failing to alert authorities about what Christian Clark had done to their children.
Citations: Mom Threatens to Murder Her Children as Punishment for Her Boyfriend's Infidelities — Then Follows Through (Cosmopolitan)