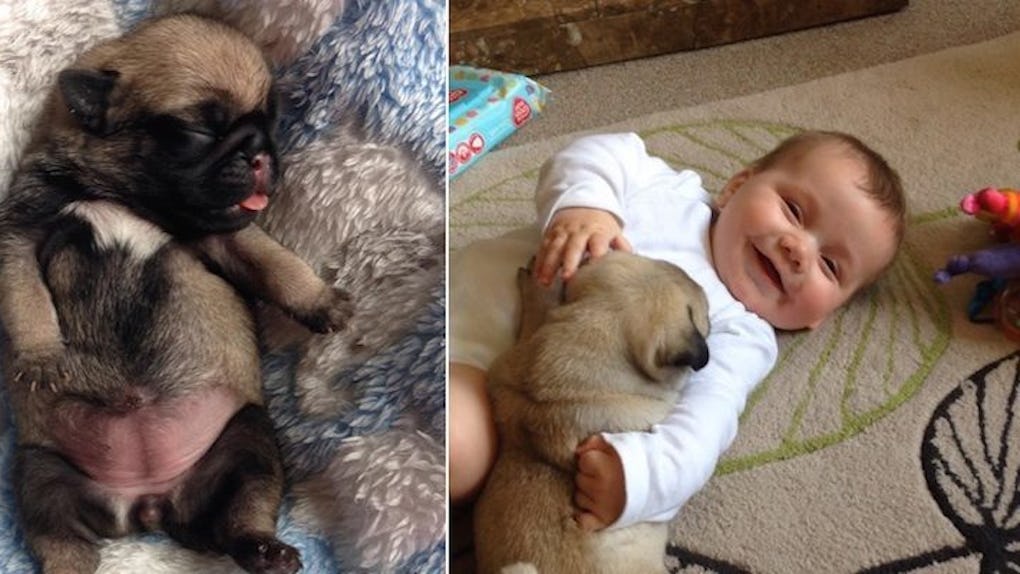 Instagram
This Adorable Baby And His BFF Pug Puppies Will Make Your Entire Day
Puppies and babies are arguably the two cutest things on the planet (I say "arguably" because kittens).
Alone, both puppies and babies are enough to incite cute explosions, but together, they're almost too much to handle.
Need proof? You'll find it on Instagram via the account aptly titled Pugsnkisses84.
The Scotland-based profile made a name for itself posting almost painfully cute photos and videos of pug puppies interacting with a baby boy named Louie, and now, it boasts more than 25,000 followers.
Three weeks ago, a video of two pug puppies planting sloppy kisses all over the little boy's face went viral, attracting international attention to the adorable account. Although the video is only a few seconds long, there are countless more videos of equally-sweet proportions on the Instagram account.
So without any further ado, I'll let you get to it. Just remember not to squeal too loudly and alert your boss to your non-work-related (albeit still very important) Internet activities.
This was the video that started it all.
Once that video went viral, the account's owner realized she had a duty to post more squee-worthy videos...
...and photos.
Soon, the floodgates opened.
There is one drawback for all these adorable puppy-kissing-baby videos, though...
...the videos will make you wish, with all of your heart, you had pugs to smother you in kisses all day.
Even the photos will make your heart hurt (in the best way).
I mean, LOOK AT THAT BELLY.
Alas, not all of us are as fortunate as baby Louie.
So, this will have to do.
Eeeeee!!!
HAPPY FRIDAY, EVERYONE!
Citations: This Video of Two Pugs Kissing a Baby Is So Stinking Adorable Youll Forget All Your Troubles (Woman's Day)