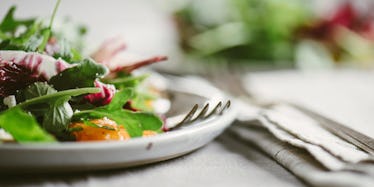 A 1-Year-Old Baby Almost Died Because His Parents Fed Him A Vegan Diet
A young boy has been taken to the hospital after allegedly being raised on a vegan diet.
The 1-year-old baby was severely underweight (his weight was similar to a 3-month-old's) after doctors at a hospital in Milan, Italy, discovered that he was malnourished, reports the Milano Corriere.
His calcium level was so low, it had almost depleted.
The lack of calcium was believed to have been brought on by the strict diet, and it aggravated a heart condition that left him in need of emergency surgery.
The boy is currently recovering from the surgery, and is reportedly in serious but stable condition.
Judge Ciro Cascone told the news outlet, "It's clear the child was being fed a strict vegan diet, which was incompatible with his young age." He will stay in the custody of Policlinico San Donato hospital while officials investigate.
A pediatrician at the hospital told the Corriere,
It's not a problem if parents want to raise their children using alternative or even unusual diets. But care needs to be taken to make up for any nutritional shortfalls using supplements. For example, the 1-year-old child we are treating should have been taking iron and calcium supplements.