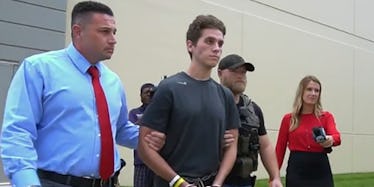 FSU Frat Guy Who Killed Couple Told Cops: 'I Ate Something Bad...Humans'
Palm Beach Post
Before he spit out what was making him sick, Austin Harrouff asked for help.
"I ate something bad," he said at the hospital, according to the Palm Beach Post. When asked what he had eaten, he said, in a seemingly blunt manner, "Humans."
Yep, that's the case of  the Florida State University student who was charged with two counts of second-degree murder. The 19-year-old is accused by police of stabbing a couple — John Stevens III, 59, and Michelle Mishcon, 53 — to death in their own home in August.
The case against Harrouff looks like it will be easy to make, too. After all, police say they found the college fraternity member eating Stevens' face.
Oh, and about that thing Harrouff spit out at the hospital? It was a piece of human flesh.
According to the Palm Beach Post, the 19-year-old was so intent on eating Stevens that it took multiple cops, a Taser, a K-9 and kicks to the head to get Harrouff off the man he allegedly murdered.
Once he was in police custody, Harrouff seemingly yelled for an instant death sentence. According to the Miami Herald, which cited the complaint affidavit, Harrouff said,
Fucking kill me, fucking kill me, shoot me now, I deserve to die.
Harrouff's bizarre behavior was foreshadowed, according to his father. On one specific occasion, the 19-year-old had joined family and friends for dinner, before mysteriously disappearing.
In an interview with Dr. Phil, Wade Harrouff said,
Austin drank a glass of tea, and then he went to the bathroom and he vanished. And so, we're wondering what happened. His mother called and said he was over at her house. And it's the third time that week that he just vanished.
Harrouff would eventually return to the restaurant, but it would be the last time his father saw him. And, since the 19-year-old is now facing murder charges, the next time the two meet, Austin might be in an orange jumpsuit.
Citations: Palm Beach Post