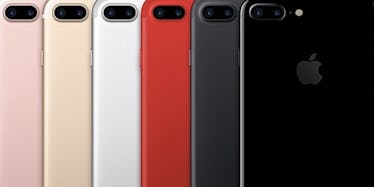 Apple's Releasing A New iPhone In Two Weeks, So No Need To Wait For The 8
Macotakara
If you've been hoarding your paychecks in preparation for the highly anticipated iPhone 8 reveal, you might want to re-evaluate how you're about to blow your savings.
Apparently, Apple isn't ready to take the iPhone 7 out of the spotlight yet, and it might be releasing a new version of the model next month, ABS-CBN reports.
If you're a compulsive iPhone buyer, you'll want to add this one to the collection before splurging on the iPhone 8 because it's going to be released in a different color.
The new iPhone 7 might available in red, and we can barely contain our excitement.
Look at it!
It's vibrant. It's beautiful. It's making us want to throw our old iPhones out the window so we can go to Apple and buy red versions as soon as they're available.
To be honest, I finally purchased an iPhone 7 last week, and I'm ready to "break" it so I can turn it in for a pretty red one.
How dare Apple not tell me a red version was going to be available so soon? Doesn't Apple know red is my favorite color?
According to Macotakara -- a Japanese blog that has accurately predicted various Apple releases in the past -- the red iPhone 7 will be available to purchase at an event in March.
Based off red iPods and accessories released by Apple previously, the red iPhone 7 might help raise funds for HIV/ AIDS awareness.
The new model will also expand color spectrum for the iPhone 7, being the sixth option a buyer can choose from alongside matte black, glossy black, silver, gold and rose gold.
The Japanese blog that predicted the release of the red iPhone 7 is known to accurately leak Apple products before they're advertised, thanks to sources inside Apple's supply chain.
Apparently, Macotakara predicted the "jet black" option for the iPhone 7 release last year, as well as the non-clickable home button.
Hopefully, its prediction for the red iPhone 7 is just as accurate as its previous leaks.