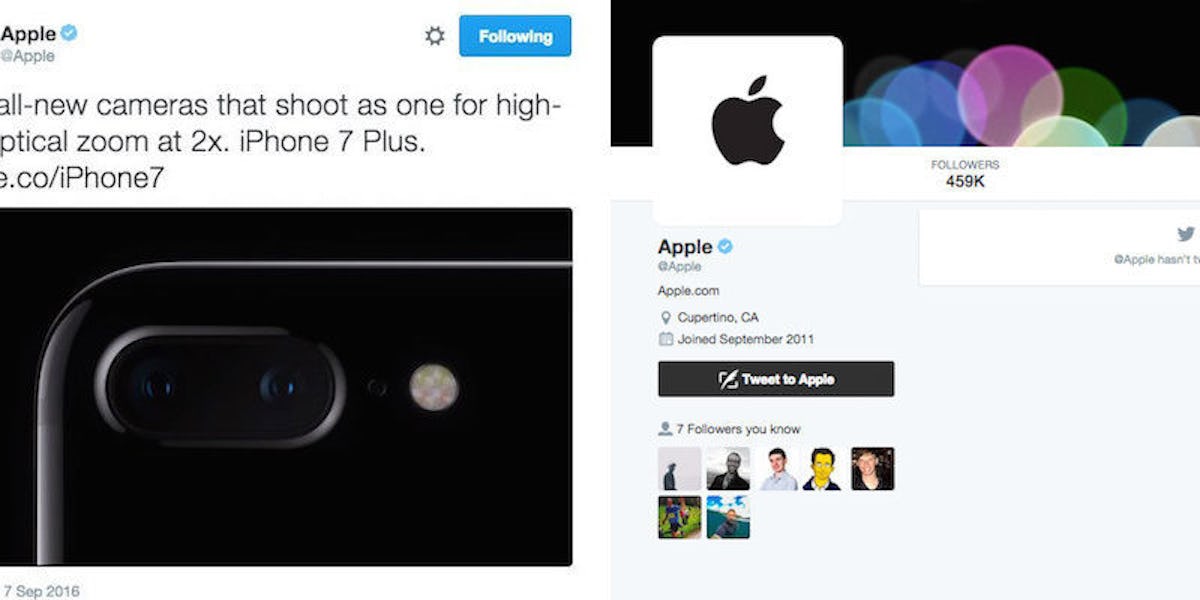 Apple Just Accidentally Tweeted iPhone 7 Pics And Someone's Getting Fired
Twitter
Apple is seriously not doing a great job keeping its new product secrets safe.
The company's annual product reveal update is happening on Wednesday afternoon, announcing long-awaited updates to the iPhone with the new iPhone 7.
But before they could get to it, they spoiled their own unveiling.
The Apple Twitter account, which is newly active, started tweeting out ads and photos for the iPhone 7...before it was announced at the conference.
The tweets revealed some expected news about the new iPhone 7, including that it will apparently be water-resistant and have two cameras and stereo speakers.
The tweets also revealed the iPhone 7 will apparently be available on September 16.
The tweets were only up for a few minutes before being deleted, but thanks to the internet, screenshots last forever.
All of the spoiler tweets (yes, there were multiple!) have since been scrapped, leaving the Apple Twitter account back at its zero-tweet status.
Apple's new products and updates have been expected for months as new information leaked out of the company. So far, it doesn't seem like there are any announcements that are particularly unexpected.
Plus, Amazon accidentally spoiled the unveiling anyway in the hour before the event started.
Apple has been making their annual event a big hype machine, but it's falling apart due to these leaks.
Of course, that doesn't mean we'll stop paying crazy attention to the announcements anytime soon. But they're going to have to do a better job of keeping their secrets safe.
And now that they're active on Twitter, Apple has to learn how to properly schedule and time tweets. Come on, you guys, you're a tech company! We expected better from you!
The annual Apple event is ongoing on Wednesday afternoon with new announcements coming in, including updates to the Apple Watch and the tech giant's other products.
Citations: Mashable