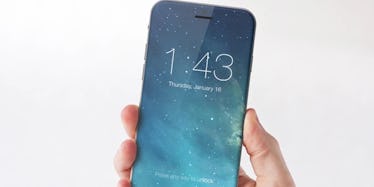 The iPhone 8 May Come In A Perfect Third Size You Didn't Know You Needed
YouTube
September's done, and we've been given ample breathing space from Apple's launch of the iPhone 7 and iPhone 7 Plus.
You know what that means? LET THE iPHONE 8 RUMORS COMMENCE.
I'm calling it: This is the first, official piece of iPhone 8 news we're allowed to get excited about.
Those powerful nerds have yet another trick up their sleeves for the 2017 model. Ready?
It's going to be released in a new size, a perfect size. It will have a 5-inch display.
According to Nikkei Asian Review, this will be in addition to the current 4.7-inch and 5.5-inch models already available.
Finally, Apple's going to quench the thirst of all those lusting for an in-between size.
So, what else can we expect? Well, for a start, we've heard rumors all iPhone 8 models will come with glass backs.
A source told the website,
Apple has tentatively decided that all the 5.5-inch, 5-inch and 4.7-inch models will have glass backs, departing from metal casings adopted by current iPhones, and Biel and Lens are likely to be providing all the glass backs for the new iPhones next year.
But the biggest rumor Apple fans will be keeping their fingers crossed for is the full-screen interface.
Speculation continues to rumble over a larger screen stretching over those white bits at the top and bottom of the phone display.
Let's not kid ourselves: It's going to look pretty sexy. And the pressure's on to pull something truly memorable out the bag as next year marks iPhone's 10th anniversary. (I know, right? They've only been around for a decade and it makes me wonder how I spent my childhood.)
As always, these are just rumors. We won't know for sure what the next iPhone packs until the usual unveiling in September.
But I don't want to wait. TAKE MY MONEY NOW, APPLE.
Citations: Mashable