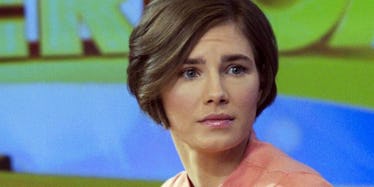 Amanda Knox Details Being Seduced By Inmate While In Jail For Roommate's Murder
REUTERS
Amanda Knox has revealed she was propositioned in an Italian prison by a fellow inmate who told her, "I can do things to you that no man can."
Knox was convicted of murdering her roommate, Meredith Kercher, and served nearly four years in jail before the conviction was overturned and she was freed.
Since Kercher was killed in 2007, Knox, along with her then-boyfriend, Raffaele Sollecito, have been the subjects of a huge amount of intrigue about the role they might have played in the British national's murder.
Knox, now 29, has given a rare glimpse into life in Capanne prison in an article published by Broadly, "Amanda Knox: What romance in prison actually looks like."
It details her friendship with a woman called "Leny," a drug dealer who took a liking to Knox, eventually kissing her without her consent.
Knox wrote having someone to talk to distracted her from the loneliness of jail in a foreign country.
She wrote,
At least initially, Leny might not have been trying to seduce me, and was actually just in need of someone kind to distract her from her loneliness.
But then Leny said she wanted to hold hands with her, before telling her, "I can do things to you that no man can."
Knox added,
One day, Leny kissed me. I gritted my teeth and half-smiled, wavering between embarrassment and anger.
Leny was a lesbian, Knox said, but other heterosexual prisoners claimed they were "gay for the stay," using a jail relationship to keep them busy and distract them.
Knox said,
There were tearful breakups, and sometimes fistfights between new partners and exes. 'Gay for the stay' is an insensitive oversimplification that signals a lack of understanding about what it's really like to be imprisoned, and an underestimation of human nature.
Knox was sentenced to jail for 26 years in 2009, before her conviction was overturned and she was allowed to return to the US.
But in 2014, an Italian court again ruled she was guilty — meaning she faces a 28-year sentence if she ever returns.
The mystery of who killed Kercher has fascinated the world for almost a decade, and speculation remains that Knox and her boyfriend had a role in the death.
Last year, the former couple starred in a Netflix documentary about the controversial case.
Citations: Amanda Knox: What Romance in Prison Actually Looks Like (Broadly)