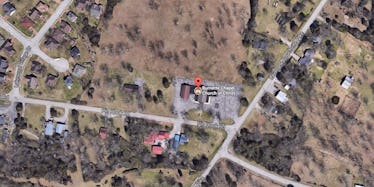 8 People Reported Injured At A Church Shooting In Tennessee, Here's What We Know
Google Maps
A tragedy on Sunday morning in Tennessee left multiple people wounded. Eight people were reported injured in church shooting in the Nashville, Tennessee area on Sept. 24, according to the Associated Press. Nashville fire authorities referred to the incident as a "mass casualty situation" on Twitter.
Police responded to a shooting at the Burnette Chapel Church of Christ in Antioch, outside of Nashville, shortly after 11 a.m, according to local news channel WKRN. The eight reported injured were nearly all adults over the age of 60. As of 2:30 p.m. ET, one woman was reported to have been killed in the shooting, according to CBS News. The outlet reported that the gunman had arrived at the church as service were being let out, and had fatally shot a woman walking to her car. He then allegedly entered the church through a rear entrance, and shot six more people. A church usher who tried to confront the shooter was pistol whipped by the gunman, who then reportedly shot himself. It was unclear whether the self-inflicted gunshot was intentional.
WKRN reported that the church usher went to his car and retrieved his own gun, for which he had a legal permit, and held it on the alleged attacker until police arrived. Authorities estimated that as many as 50 people were in the church at the time of the incident.
Officials said that the alleged gunman and five other people were being treated for gunshot wounds at Vanderbilt University Medical Center, per the AP, while one shooting victim and the individual who was pistol whipped were being treated at Skyline Medical Center.
Former pastor Bill Hunter told a reporter for the Tennessean that he had been told that a man had simply "walked in, sat down and started shooting." He also said that he had been told the current pastor and his wife were among the wounded.
Nashville Mayor Megan Barry released a statement on the shooting, sharing her horror and heartbreak at what had happened. She wrote,
This is a terrible tragedy for our city. My heart aches for the family and friends of the deceased as well as for the wounded victims and their loved ones. Their lives have been forever changed, as has the life of their faith community at Burnette Chapel Church of Christ. My administration, especially the Metro Nashville Police Department, will continue to work with community members to stop crime before it starts, encourage peaceful conflict resolution, and promote non-violence.
Police spokesman Don Aaron said at a news conference that he was "not aware" of any relationship between the gunman and members of the church, according to CBS.
WKRN identified the six gunshot victims as the minister, Joey Spann; his wife, Peggy Spann; William Jenkins, 83; his wife Marlene Jenkins, 84; Linda Bush, 68; and Katherine Dickerson, 64. The church usher has been identified as Robert Engle, 22. Authorities have not yet released the name of the woman who was killed in Sunday's incident.
According to not for profit data tracker Gun Violence Archive, Sunday's incident is the 264th mass shooting in the United States so far this year. The number is startling — the date of today's shooting, September 24, is only the 267th day of the calendar year. The organization defines a "mass shooting" as any incident when at least four people are shot and/or killed in a single incident.
In the aftermath, many are turning to express that those hurt are in their thoughts. Burnette Chapel Church, which describes itself on its website as a "friendly, Bible based group of folks who love the Lord and are interested in spreading His Word to those who are lost" — noting, meanwhile, that you can wear blue jeans to services — quickly began receiving messages of sympathy and support on social media. Across the country, many reached out to share their prayers with the community.
"Prayers for the victims and families and friends....such a sad and terrible situation," read one comment. Another said,  "America is with this little church. Prayers and love."